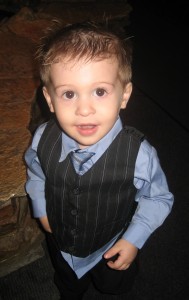 Axton Alexander Nolte, 2 year old son of Wade Nolte and Jennifer Baker passed away on Tuesday, April 24, 2012 at his home.  He was born in Lincoln on June 9, 2009.
Survivors include his parents, Wade Nolte and Jennifer Baker of Lincoln; grandparents, Roger and Linda Nolte of Lincoln, Kimberly Romine of Lincoln, Chris Baker and Deb Plakas of Illinois; great-grandmother, Lenora D. Clark of Lincoln; great-grandparents, Lloyd and Phyllis Romine of Grand Island; Vern and Shirley Heckle of Alaska; uncles, Austin Nolte of Lincoln, Eric Baker of Illinois,  aunt, Afton Baker of Lincoln, great uncles, great aunts, cousins.  Axton was preceded in death by his great-grandfather, Fred Clark; and great-grandparents, Marvin and Dorothy Nolte.
Visitation will be held on Friday, April 27, 2012 from 6:00 P.M. to 8:00 P.M. at Wyuka Funeral Home.
The funeral service will be held on Saturday, April 28, 2012 at 10:00 A.M. at Wyuka Funeral Home.
Burial will be in Fairview Cemetery.
Memorials for Axton may be directed to the Bank of the West.