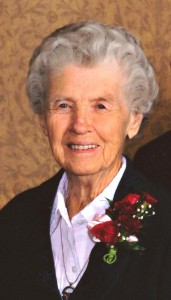 Ardys Mae Williams Young, age 89, of Lincoln, died on Tuesday, May 8, 2012 in Lincoln. She was born on June 5, 1922 in Phillips County Kansas to George Nathan Williams and (Minnie) Mina Bertha Johanna Hecht Williams. Ardys married Donald Earl Young on November 30, 1940 in Imperial, Nebraska. Ardys grew up in the Naponee and Franklin, Nebraska area surrounded by her many aunts, uncles, and cousins. Ardys and Donald lived in Holdrege, Nebraska for many years where their daughters were born. She was a stay-at-home mom and was devoted to caring for her family. She never sat still, always busy cooking, sewing, and cleaning for the family and helping her daughters with projects they were involved in. She was active in her Extension Club and church activities. Ardys worked at the Coca-Cola Bottling Plant after her children were older and in school. When the family moved to Lincoln in 1965, she went to work at Gold's and Brandeis Department Store. She was the "salad lady" in the second floor cafeteria. Ardys was the first one to greet customers as they went through the line and always had a smile and kind words for the customers. When Brandeis closed, she worked for the University of Nebraska-Lincoln food service for a short time before retirement. She was a member of Second Baptist Church.
Ardys is survived by her daughters and son-in-laws, Carol and Harley Nelson of Lincoln; Shirley and John Horstman of Lincoln; Beverly and Keith Ludden of Augusta, Maine; grandchildren, Connie Nelson of Lake Havasu, Arizona; Cindy and Jason Richard of Hot Springs, Arkansas; Jeff and Kristy Horstman of Lincoln; Pamela and Matt Brigham of Seattle (Fife), Washington; great-grandchildren, Jessica and Rachel Buck of Lincoln, Korey, Kelsey, and Karsen Richard of Hot Springs, Arkansas; and Kamden and Kasten Horstman of Lincoln, great-great-grandson, Mason of Lincoln; sister, Gladys Norton of Fort Collins, Colorado. She was preceded in death by her husband, parents, and sister, Ruth M. Samuelson, and grandson, John Nelson.
Visitation will be held on Friday, May 11, 2012 from 3:00 P.M. to 8:00 P.M. with family receiving friends from 6:00 P.M. to 8:00 P.M. at Wyuka Funeral Home
The funeral service will be held on Saturday, May 12, 2012 at 2:00 P.M. at the Second Baptist Church, 525 N. 58th Street, Lincoln with Pastor Steven Wisthoff officiating.
Burial will be in Fairview Cemetery.
Memorials may be directed to the Alzheimer's Association.