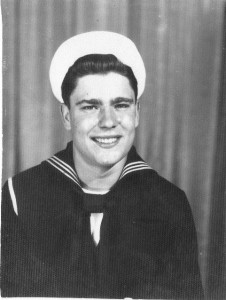 Eugene R. Martin age 86 of Friend, Nebraska died on Thursday, August 1, 2013 in Lincoln. He was born on March 1, 1927 in Lincoln to Earl Robert and Carrie (Burr) Martin.  He graduated from Waverly High School.  Eugene served in the US Navy from 1945 to 1952.  He served during World War II and the Korean War.  He married Enola S. Esponge on December 6, 1947 and they were together 66 years.  He worked in the Insurance and Real Estate business since 1963.
Eugene is survived by his wife, Enola of Friend, Nebraska; daughter, Christine (Chris) Martin of Lincoln; son, Bob Martin of Alton, Missouri; daughter, Lori Martin of Fort Wayne, Indiana; grandsons, Robert (Robby) Martin of West Plains, Missouri; Samy Younis of Cincinnati, Ohio; granddaughter, Ricky Lee Morris of West Plains, Missouri; many sister-in-laws, brother-in-laws; nieces and nephews. He was preceded in death by his parents, sisters, Irene Pine; Carol Glantz; Orneta Johnson; brother, Kenneth Martin; a son in infancy, Eugene Robert Martin, Jr., and a granddaughter, Deana Younis.
The funeral service will be held on Monday, August 5, 2013 at 10:00 A.M. at the United Church of Christ in Friend, Nebraska.
Burial will be in Our Lady of Prompt Succor Cemetery in Golden Meadow, Louisiana.
Memorials in lieu of flowers may be directed to the family for later designation.