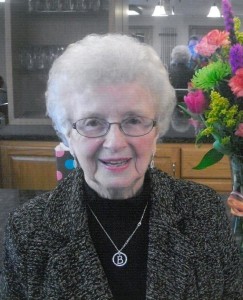 Betty J. Root (Long) age 92 of Lincoln went to be with the Lord, April 27, 2016.  She was born January 31, 1924 in Lincoln to John and Alice (King) Holwuttle.
She is survived by her nieces and nephews, Paul Richardson, John Holbrook, Shirley O'Meara, Wes Husband, Patricia Short (Edward), Debbie O'Malley, Diana Huey (Way), Donald Holbrook and many great nieces, nephews and other family members.  Betty was preceded in death by her first husband, Harold Wesley Long, their daughter Patricia Ann Long, her second husband Wallace J. Root, her parents and all her siblings, Paul, Irma, Bernie, Alice and Elsie.
The celebration of Betty's life will be Saturday, April 30, 2016 at 11:00 A.M. at Wyuka Funeral Home.  The family will be receiving friends Friday evening from 5:00-7:00 P.M.  She will be interred in Carthage, Missouri resting forever by her first husband, Wes.
Memorials may be left to Tabitha Hospice.