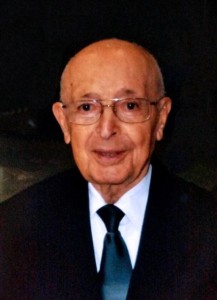 Atwood R. Watson Sr., 97, of Mitchell, Nebr., formerly of Lincoln, passed away Thurs. May 19, at the Mitchell Care Center. Born Aug. 21, 1918 to Amzi and Besse (Grass) Watson in York County, Nebr.  Graduated Waco High School in 1938.  He owned a donut shop in Waco with his twin brother, Elwood.  Served as a Staff Sergeant in the US Army at Camp Roberts in Paso Robles, CA from 1941- 1945; he was drafted and his brother Elwood volunteered so they could serve together. Married to Arlene McClatchey Sept. 3, 1942 in Paso Robles. Two children Atwood Jr. and Joan Marie.
Returned to Lincoln managing Elgin Watch Co.; when they closed he worked for several car dealers before purchasing his own dealership, Parrish Motors. Upon selling, he retired for a short while, returning to work as a Veterans Service Officer for the State of Nebr.  Atwood and Arlene were members of the College View 7th Day Adventist Church for 57 years where he enjoyed serving as a Deacon.  In 2009 they moved to Mitchell to be near their son and his family.
Preceded in death by his parents; wife, Arlene, who passed Nov. 3, 2010 celebrating 68 years of marriage in Sept. 2010; daughter Joan Hamm; brothers, Wayne, Gilbert, and Elwood; and sister Lela.
Survived by son Atwood Jr. (Diane) of Melbeta, NE; grandson Atwood III "Trey" (Sylvia) Watson with great grandchildren Wyatt Atwood and MaKayla of Cheyenne, WY; grandson Travis (Deidra) Watson with great grandchildren Dax and Ryker of Farmington, NM; grandson Jason (Andrea) Thomas with great grandson Dylan of Clarksville, TN;  granddaughter Justina Thomas of Farwell, MI; niece Lori Foote of Decherd, TN; son in law Allan Hamm of Longview, WA; sister in law Marge Watson of York, NE; nephews Wayne, Kenny Watson and niece Joann Watson all of MS; and his extended family of caregivers at Mitchell Care Center.
Funeral Services will be at 1:00 p.m. on Mon. May 23, 2016 at Wyuka Funeral Home Chapel, 3600 "O" St., Lincoln with a Viewing from 12:00-1:00 pm; Pastor Russ Thomas officiating. Interment with military honors to follow at Lincoln Memorial Cemetery. In lieu of flowers memorials will be used to provide a token of appreciation for the outstanding care from the staff at Mitchell Care Center.  Condolences www.wyuka.com