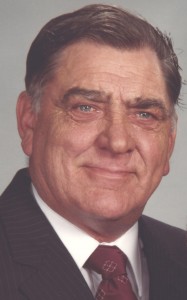 Arnold E. Nieveen, 80 years of age, of Beatrice, NE passed away at the Beatrice Community Hospital Sunday afternoon, October 24, 2004. He was born on August 4, 1924 in Adams, NE. He was a graduate of Adams High School and graduated from the University of Nebraska in Lincoln with an Economics in Agriculture degree. He served his country in the United States Army in the Army Medical Corps in occupied Japan from April 22, 1946 until September 28, 1947. He married Betty Lou Dolezal on July 31, 1950 in Lincoln and lived in Fremont from 1951-1959 where he worked as a farm manager for the Farmers National Co. for 7 years. They moved to York and lived there until a move to Beatrice in 1961. He was employed at the Scully Estates in Beatrice from 1961 until he retired in 1990.
He was a member of the First Presbyterian Church; the Geddes-Thober Post 1077, Veterans of Foreign Wars; Bitting-Norman Post #27, American Legion; Beatrice Noon Sertoma Club and past board member; Travelers Protective Association, past president and board member; and a past member of the Lodge #619, B.P.O. Elks, all in Beatrice. He was a past member and president of the Nebraska Chapter of the American Society of Farm Managers and Rural Appraisers; past president and board member of the National Society of Farm Managers and Rural Appraisers; past chairman and board member of the Agriculture Committee of the Beatrice Chamber of Commerce; was the treasurer of the American Field Service for 9 years; past board member of the Nebraska Ag. Alumni Association; and past member of the Nebraska Ag. Relations Council Nebraska Soil and Water Conservation Steward. He had been involved in city politics in Beatrice and enjoyed hunting, fishing, gardening, playing poker and was an extensive traveler.
Survivors include his wife Betty Lou; Son Bruce Nieveen and his wife Liisa of Riverton, Utah; daughters Barbara Nieveen and her husband Keith Larsen of Lincoln, NE. and Patte Newman and her husband Darrell Klein of Lincoln, NE.; grandchildren Jed, Jacob and Katrina Nieveen and Marc Newman; and brother LaVern (Fat) Nieveen and his wife Margery of Adams, NE. He was preceded in death by his parents Cornelius and Jennie (Ringling) Nieveen; brothers Martin, Harmon, and Melvin Nieveen; and sister Mae Marcusse.
Memorial services were held at 11:00 A.M. Friday, October 29, 2004 at the First Presbyterian Church in Beatrice, NE. with Reverend Dr. Jimmy Shelbourn officiating. Private family inurnment will be held at a later date at Wyuka Cemetery in Lincoln. A memorial was established to the Sertoma Scholarship Fund with Gerald Kleveland and Joe Richling in charge.