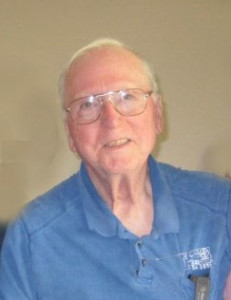 Stanley William Floth was born September 12, 1938 to Conrad & Molly (Sittner) Floth in Lincoln, NE.  He was baptized November 12, 1938 & confirmed March 29, 1953 at Friedens Lutheran Church in the South Bottom in Lincoln.  Stan attended Park Elementary, Everett Junior High, & Lincoln High School graduating in 1956.  His college plans were interrupted due to health. Stan became ill, was hospitalized, & at the age of 18 was diagnosed a brittal diabetic after a near death experience.  During this time he felt the call to the ministry.  He entered Midland Lutheran College, Fremont, NE graduating June 3, 1962 with a Bachelor of Arts degree.  He then entered Central Lutheran Seminary in Fremont, NE graduating May 5, 1966 with a Mastor of Divinity degree. Stan spent 1 year of internship at Zion Lutheran Church, Salt Lake City, Utah.  Stanley & his class was ordained June 2, 1966 at the Lutheran Church in America (LCA) Nebraska Synod Convention in North Platte. Their class was the last one to be ordained at convention.
1966-68 – Pastor Floth's first parish was Calvary Lutheran Swede Home, NE.  During this time in 1967 he took Hospital Chaplaincy Training at Bryan Memorial Hospital, Lincoln.
1969 – Pastor Floth continued Hospital Chaplaincy Training in Kansas City, MO.
Later in 1969 he was called by the Synod to be an Interim Pastor.  He spent anywhere from 3 months to a year or more in the following churches:
1969 – Emmanuel Lutheran, Lawton, OK.
First Lutheran, Nebraska City, NE.
1970 – St. Paul's Lutheran, Falls City, NE
1970 – 71 – St. Mark's, Verdon & St. Peter's Falls City
1971 – 72 – First Lutheran, Lincoln, NE.
1972 – 73 – St. Paul's Lutheran, Grand Island, NE.
1973 – 74 – Fridhem Lutheran, Funk, NE. During Pastor Floth's year in Grand Island, he met Sharon Fitzke & they became engaged.  After his Interim work in Funk & the first semester of school was over they were married on Feb. 2, 1974 at St. Paul's Lutheran, Grand Island.
1974 – 77 – Pastor Floth was called to Christ Lutheran, Pierce, NE. During this time he & Sharon welcomed Robert(Bob) who was born on April 24, 1975.
1977 – 88 – Pastor Floth was called to St. Paul's Lutheran, Blue Hill, NE. The family continued to grow with Carol being born on June 25, 1977; Brian on April 18, 1979; & Susan on May 17, 1982.
1988 – 1994 – Pastor Floth was called to St. John's Lutheran, Sterling. Due to health issues September 1994 Pastor Floth went on medical disability through the church.
1994 – 2006 – Pastor Floth (as his health would allow) did worship supply & interim ministry for congregations who were between ministers.
October 2011 Pastor Floth was diagnosed with dementia/alzheimer's.
May 2016 a heart condition led him home to live with the Lord.
Pastor Floth died Tuesday, May 24, 2016 at GoldCrest Retirement Center in Adams, NE.
Survived by his wife, Sharon (Fitzke) Floth, children: son Bob & wife Stephanie;  daughter Carol Floth all of Lincoln;  son Brian & wife Danielle of Edgar; & daughter, Susan Floth of Fremont. Along with 5 grandchildren Bradyn, Camdyn, Landyn of Lincoln & Ethan & Brielle of Edgar.  Older brother, Gerald, of Shawnee, KS & younger brother Alan & wife Joanne of Gilbert, AZ. Along with nieces, nephews, great nieces & nephews.
Preceded in death by his parents Conrad & Molly; sister-in-law Mary Floth, Shawnee, KS; niece Jaime Lynn Floth, AZ.
Visitation – Sunday, May 29 from 1:00-7:00p.m. at Wyuka Funeral Home, Lincoln, NE. Family will be present from 5:00-7:00p.m.
Service of Resurrection Tuesday, May 31, 2016 at 10:30a.m. at American Lutheran Church in Adams, NE. Luncheon to follow. Committal at Wyuka Cemetary in Lincoln, NE at 3:30p.m. Fellowship following in the Garden Room at Wyuka.
In lieu of flowers, memorials may be given to the family to be divided between 4 organizations that touched the life of Stanley.