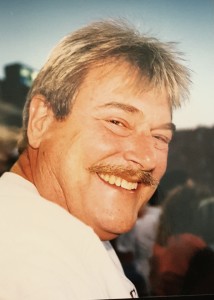 Houghton Furr, Jr.  age 73 born to Houghton, Sr and Marion (Jones) at Harvard in Boston, MA on 9/10/42.  Graduated from Lincoln Southeast High School and served in the U.S. Marine Corps. He earned a Bachelors in Business at UNL where he was a member of Sigma Chi fraternity.  During college he worked at Speedway Motors where he increased his vast knowledge of tuning car engines to perfection. He served on the Board of Directors of the University Club and retired after 37 years as Deputy Chief Examiner at the Nebr. State Dept. of Insurance.  "Houghtie" had a love of boating, traveling with his daughter and grandchildren and loved open road auto racing.  His favorite race was the Sandhills Open Road Challenge where he won several championships and made some dear, lifelong friends.  His love for animals was endless and he was a proud supporter of Hearts United for Animals as well as Hands, Hearts & Paws where he adopted the loves of his life.  You could always find him in any room just by following his laugh.
Preceded in death by parents, sister, Lyn Jones.  Survived by daughter, Brittany (Kitchen) Furr; granddaughter/husband Bailey (Mitchell Cookston), Great granddaughter, Annalyse Cookston, all of Lincoln; grandson Dylan McAllister, Steamboat Springs, CO; Special friend Sharon Cochrane, "Brother" Michael Davlin and lifelong friends Terry Sindelar and Barry Ehrman.
Memorials c/o family to be donated to HUA and HHP in his honor.
Memorial service 3:00pm, Thurs, Jun 9, 2016 at Wyuka Funeral Home, 3600 O St, Lincoln. Celebration of life party to follow at Country Pines.