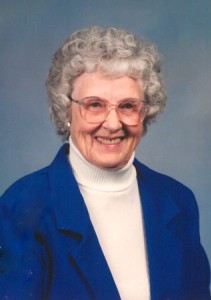 Susan M. McCullough, 98, of Lincoln passed away on Sunday, May 29, 2016.
Preceded in death by her beloved husband, John W. McCullough; eight of her nine siblings; and other beloved family members.
She is survived by her son, Rod (Julie) McCullough of Des Moines, IA and grandson Dylan McCullough (Steph) of Brooklyn, NY; daughter Margaret (Jim) Minary and grandson Jared (Margee) Minary with great grandchildren Christian, Celena, and Nora of Lincoln; grandson Thomas (Ilia) Minary and great grandson Charlie, of Lincoln; youngest sister Calore Van Houden of Noel, MO; and many nieces and nephews.
A Memorial Service will be held at 11:00 am on Fri., June 10 at Southern Heights Presbyterian Church, 40th and Old Cheney, Lincoln. Pastor Leanne Masters officiating. Memorials to SHPC and Lincoln Community Playhouse.