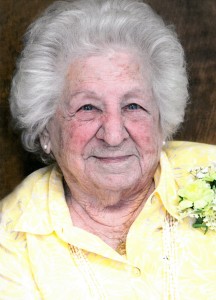 Iola "Myrtie" Pray Monia, age 100, of Lincoln went to heaven peacefully surrounded by family on June 6, 2016. Born April 5, 1916 in Willow Springs, MO, daughter of George and Lulu Pray.  Married to Andrew Monia, 1934, in Lincoln.  She was a member of Eastern Star; a nurse aid and board member at Bryan Hospital; VFW Ladies Auxiliary; Havelock Methodist Church and St. Luke's Methodist Church.
Preceded in death by her parents; husband Andrew; sons Andy and Roger; grandson Rodney Minzel; and son in law Dutch Buettgenbach.
Survived by her son Pete (Mary) Monia of Lake Havasu City, AZ; daughters, Myrtie Jean Buettgenbach, Andrea (Tom) Mills, and Sally Edwards, all of Lincoln; 8 grandchildren; 19 great grandchildren; and 23 great great grands. It was Myrtie's wish to be cremated.
A Memorial Service will be held at 1:30 p.m. on Fri. June 10, at Wyuka Funeral Home, 3600 "O" St., Lincoln. Burial at a later date. www.wyuka.com