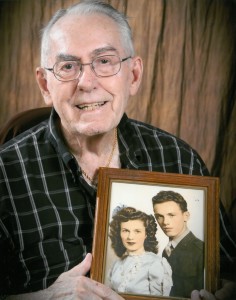 Richard J. Cubbison Sr. Age 94 passed away on June 11, 2016.  He was born March 14, 1922 in Lincoln to James and Esther (Anderson) Cubbison.  His wife Lucille preceded him in death on Nov. 6, 2007 after 64 years of marriage.  Richard served in the Marine Corp for 42 months in aviation maintaining F4U fighter planes during WW2.  In civilian life Richard was in the floor covering business under CUBS DIST., and earlier as A-1 Linoleum and Sherwin Williams Paints.
He is survived by his son Richard J. Cubbison  Jr. and wife Ellie of Westminster, Colorado.  His sisters Helen Balderson and Sally Stauffer preceded him in death.  Nieces Kay McCune of Bemidji Minn., Karen Johnston of Cortland, Ne., Leslie Booker, and nephew Jim Stauffer of Lincoln and their families also survive him in addition to several great nieces and nephews.
Services will be held at Wyuka Funeral Home at 10:30 A.M. on Monday, June 20, 2016 with Rev. Dr. Neal Anthony of the Evangelical United Lutheran Church.
Memorials are to be sent to Smile Train for Children.