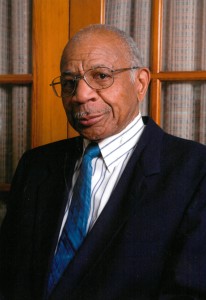 Victor S. McWilliams Sr. was born July 29, 1926 and was called home June 23, 2016 after a long battle against Alzheimer's.  He was the youngest of 6 children born to John Jefferson and Sarah (Webster) McWilliams in Lincoln, Nebraska.  He attended Bancroft Elementary School, Whittier Junior High and Lincoln High School.  Victor was employed at Northwestern Metal Co. and was the Vice-President when he retired after 43 years of service.
He was preceded in death by his parents, brothers John J. McWilliams II, Theodore McWilliams, Henry McWilliams, sisters Helen McWilliams, Elizabeth (Lit) Green, Nephew Jo Nathan McWilliams and daughter Felicia S. McWilliams.  He leaves behind his son Victor S. McWilliams II (Latricia) of Raymond, Nebraska, daughters Cynthia Belford, E. Rose McWilliams and E. Ruth McWilliams of Lincoln, 4 grandchildren, 8 great grandchildren, niece Loretta McWilliams Russell of Lincoln, nephew Henry (Chipper) McWilliams (Deb) of Grand Island, Nebraska and a host of nephews, cousins, friends and family.
Victor was married to Juanita M. Walker for over 55 years.  He leaves to cherish his memory dear classmates Shirley Rife and Vernon Wilson, childhood and close friends, Hazel (Wilson) Anderson, Charles Baker, Pat Bluford, Charles Botts, Ledora Brown, Hobart Bradley, Roger Caulier, Jean I. Green, Gray Hill, Allen Jackson, Romayne Jackson, Albert Maxey, Ray McCray, Birdie Powell, Talmage Ricks, Toni Vinegar and Ida Washington.
He was a strong yet quite man and soft spoken, he loved spending time with family and friends.  The family would try to take a trip each year to visit family and friends.  Victor Played the jazz piano and became an avid photographer.  At the time of his death he was a member of Lincoln City Church.
Services will be at 11:00 A.M. on Saturday, July 2, 2016 at Lincoln City Church, 5001 S. 1st Street, Lincoln.  Interment will be at Wyuka Cemetery.
Visitation will be on Friday, July 1st from 1:00-8:00 P.M. with the family greeting friends from 6:00-8:00 P.M. at Wyuka Funeral Home.
Memorials in lieu of flowers to Lincoln City Church, 5001 S. 1st Street, Lincoln 68512 or Quinn Chapel AME Church, 1225 S. 9th Street, Lincoln 68502