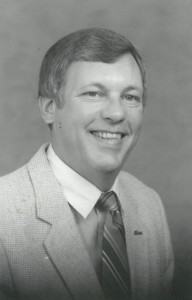 Dale Eugene Schmitz, 76, of Lincoln, passed to his heavenly rest on Tuesday, July 5, 2016 at Journey House of Tabitha.  Dale was born in Lincoln, to Harold and Jeannette (Wintersteen) Schmitz on October 21, 1939, the oldest of three children.  He grew up in Bellevue, Nebraska and graduated from Bellevue High School in 1957, where he excelled in basketball and track & field.  It was also at Bellevue High that he met the love of his life, Mary Jo Swaney.  Upon graduation, Dale attended the University of Nebraska at Lincoln.
Dale and Mary Jo were married on October 2, 1959, and the young family relocated to Lincoln, where Dale worked in the accounting/bookkeeping field, retiring from Pfizer in 2001.  As a young man, Dale was very involved with the Jaycee organization local and state officer.  He was a member of Prairie Home United Methodist Church and after his retirement, Dale and May Jo spent many hours volunteering at church and for the FoodNet Lincoln charity, but Dale was happiest on the golf course and spending time with his large family.  He was a fixture at sporting events and school activities for all of his grandchildren.
Survivors include his wife of 56 years, Mary Jo, his children: Ellen (Mark) Dickey of Dunes, South Dakota; Dorothy (Mark) McManaman of Lincoln; David Schmitz of Los Angeles, California; Nancy (Greg) Topil of Lincoln and Jean (David) Hart of Edmond, Oklahoma, 10 grandchildren:  Chelsea Kelley; Jacquelyn Wright; Jenna Topil; Tyler McManaman; Justin Topil; John Dickey; Matthew Hart; Meredith McManaman, Dylan Schmitz and Hayley Schmitz.  Great grandchildren: Bryar Kelley, Marley McManaman and Maci McManaman  He is also survived by two sisters, Nancy (Ike) Rothgeb of Murray, Nebraska and Judith Leacock of Phoenix, Arizona and 2 nieces and 2 nephews.  He was preceded in death by his parents, and a daughter-in-law, Lucy Schmitz.
Services will be held at 11:00 A.M. on Monday, July 11th at Wyuka Funeral Home with burial at Yankee Hill Cemetery in Lincoln.  Visitation will be 2:00-7:00 P.M. with the family greeting friends from 6:00-7:00 P.M. on Sunday, July 10th at Wyuka Funeral Home.
The family would like to thank the compassionate and loving staff of the Tabitha Journey House for the excellent care he has received over the past year.
Memorials may be directed to the Journey House, Prairie Home Church or Alzheimer's Association