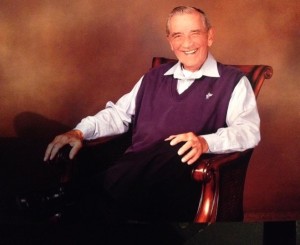 Robert C. "Gramps" Wolfe, age 89, of Lincoln passed away July 7, 2016. Born April 22, 1927 at home on 2815 P St., Lincoln NE to Clarence and Freda (Schurk) Wolfe.  Graduate of Lincoln High School and served in the US Navy 1944 – 1947.  Moved to California with wife Mary and a young daughter in 1949. Started the West Covina, CA fire station as a volunteer and ended as a Battalion Fire chief in 1964 where he then moved his family back to Lincoln.  A man of many talents with a few being an electrician, plumber and mail carrier.  His main career as a business owner of Beltone Hearing Aid Center, Lincoln, NE for 17 years and then at the age of 56 in his retirement he bought a small hardware store in Havelock. As a pillar in the community he continued to be actively involved in Wolfe Ace Hardware stores day to day business up until his passing. Today it continues to run as a 4 generations store.  Awarded the 50 year member of the American Legion Post #13 for his longtime and dedicated service.  Loved by all as a father, grandfather, great grandfather and great-great grandfather.  As a friend and mentor to many he will be greatly missed.
Survivors include his sister, Janice Bowman of California; Brothers and sister-in-law, Bud and Elsie Bennett of Oklahoma, John Bennett of Florida.  His children, Linda (Ed) Diaz, Dave (Jackie) Wolfe, Sondra (Ron) Tresnak, Judy (Mark) Weaver and Mary (Mike) Edwards.  Grandchildren, Mark Neal, Marcella and Matt Boehnke, Jason and Lynnette Wolfe, Jeff and Nikki Wolfe, Jamison and Jody Wolfe, Joyce and Mike Walton, Adam and Shana Grell, Angie and Joe Clapper, Andrea Grell and Nate Ross, Max Tresnak, Aaron and Kristi Weaver, Jenni and Derek Engelbart, Austin and Elyse Weaver, Andrew and Erin Edwards, Jonathan Edwards, Brendan, Bryan and Austin Farley.  33 Great grandchildren and 2 great-great grandchildren.  Numerous cousins, nieces and nephews.  Preceded in death by wife Mary Ruth (Bennett) Wolfe, sister Betty Sinner.
Private family services.  Interment Wyuka Cemetery.
A celebration of life will be held at the Isles Reception Hall, 6232 Havelock Ave.  on Wednesday, July 13th from 3:00-6:00 P.M.
Visitation will be Tuesday, July 12th at Wyuka Funeral Home from 4:00-8:00 P.M. with the family greeting friends from 6:00-8:00 P.M.
Memorials to Tabitha or Lincoln-Lancaster Habitat for Humanity.