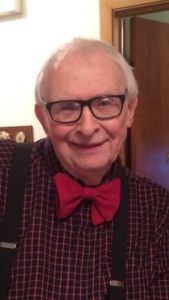 Robert Norton Mohlman age 90 years, 10 months, 13 days passed away Thursday, July 7, 2016 at 7:40 p.m.  He was born August 24, 1925 at St. Mary's Hospital in Columbus, Nebraska to Eilert and Anna (Brandes) Mohlman.  He graduated from Kramer (Columbus) High School in 1943, known in the school Annual as "A PAL TO ALL", a philosophy that shaped his belief in and acceptance of all persons throughout his life.  He served in the 130th Signal Radio Intelligence Company of the U.S. Army during World War II for 3 years and received a Bronze Star for service on Guam in the Mariana Islands during the Western Pacific Campaign.  He graduated from the University of Nebraska in 1950 with a Bachelor of Science degree in Secondary Education, majoring in Social Science and English, and, in 1954, a Master of Science degree.  He was a high school teacher in Fairbury and Omaha for six years before returning to Lincoln to begin a pursuit of a Doctoral Degree in Adult and Continuing Education.
August 1, 1953, Bob married Darlene Marie Holstrom, a marriage of faith and graceful love that lasted 52 plus years interrupted only with the passing of Darlene, February 3, 2006.  The union developed 4 treasured, talented and beautiful daughters–Marsha, Linda, Lisa and Monica.
On May 3, 1957, Bob began a 52 year association with the Nebraska Department of Labor serving as an Employment Interviewer, Placement Specialist in Professional Jobs, serving 34 years as Staff Training and Development Officer, and, after official retirement, returned to become lead Department Receptionist for 7 years.  He often referred to his public service work and relationship with all peoples, "His Job, His Life," and credited many persons as friends who represented his favorite saying: "No person is the whole of himself; his friends are the rest of him."
Bob's keen interest in growth and development and professionalism on the job provided him the opportunity to develop and conduct educational and training programs locally and nationally for persons in their professional association, the International Association of Personnel in Employment Security (IAPES).  He was elected International President of his professional association of 26,000 members, world-wide, in Toronto, Canada, in 1981.  Bob was an active Presbyterian and an Elder, Deacon and Worship Enabler, as a member of Good Shepherd Presbyterian Church.
Robert is survived by daughters and sons-in-law: Marsha and David Wetrosky of Nebraska City, Linda and Michael Stroud of El Mirage, Arizona, Monica Mohlman of Lincoln, Lisa and Ralf Lindow of Bellevue; former son-in-law, Eric Gillette.  Grandchildren, Alex, Audra, Ava Wetrosky all Nebraska City; Justin Stroud and fiancé Beth Outz of Lincoln, Jenna Stroud Petrocchi and husband Ryan of Birmingham, Alabama; Morgan Gillette of Lincoln; Samuel, Carter and Emma Gillette of Bellevue; step granddaughters Sasha Lindow and Jessica Holcomb of Bellevue; great grandson Forest Riegle and his father Chris Reigle of Lincoln.  Great granddaughter, Renata Caster and her father Josh Caster of Lincoln.  Special nieces Pat Webster and Pam Sayers of North Carolina, Sandra Barth of Manhattan, Kansas; Terri Willmes of Lincoln.  Nephew, Don R. Mohlman, Jr. of Elkhorn and special buddies Laurie and Will; and his beloved St. Bernard, Bailey.  Bob was preceded in death by his wife Darlene and her sister Donna.  Brother and sister-in-law, Donald and Shirley Mohlman  and his beloved cat, Spoky.
Memorial service 11:00 A.M. on Thursday, July 14, 2016 at Good Shepherd Presbyterian Church, 8300 East Pointe Dr.  Rev. Jeff D. Warrick presiding and celebrating Bob's life.  Inurnment will be at Wyuka Cemetery at 9:00 A.M. on Thursday, July 14th.
Memorials to the family for a later designation.