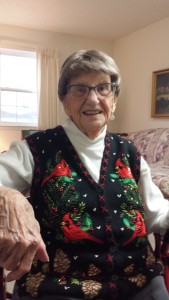 Margaret R. (Birdsall) Glandt age 96 of Lincoln, formerly of Omaha passed away July 23, 2016.  She was born September 21, 1919 in Union, New Jersey to Joseph and Corynne (Shaw) Fischer.
Survivors include her son and daughter-in-law, John and Jeannie Birdsall of Lincoln; granddaughter, Joni Birdsall; grandson and spouse, Rick and Debra Birdsall.  Great grandchildren, Wyatt, Jarod and Luci Packard.  Step great grandson, Vincent Wheatley.  Special nieces, Linda Kuehl and Sherri Buford.  Nephews.  Preceded in death by her parents, husband, Alfred Glandt.  Brother, Walter Fischer, 3 other brothers and 1 sister.
Services will be held at 1:30 P.M. on Wednesday, July 27, 2016 at Wyuka Funeral Home.
Visitation will be at Wyuka Funeral Home on Tuesday, July 26th from 5:00-8:00 P.M. with family greeting friends from 6:00-7:00 P.M.
Interment will be at Wyuka Cemetery.
Memorials to the Cat House, a no kill cat shelter, Lincoln, NE.