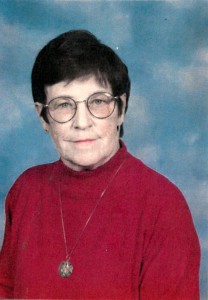 Sharon Rae Bartak, age 79, of Lincoln passed away August 10, 2016. She was born in a farmhouse near Stanton, Neb. to Rudolf "Rudy" and Esther (Pont) Bartak on December 28, 1936 the second of four children; Caryle, Sharon, Jerry and John.  She graduated in 1954 from Madison High School and initially began a profession as a legal secretary.  In 1956 she married Wayne Hahn and moved to Lincoln, Neb. where she gave birth to and was the loving mother of five children; Douglas, David, Kelli, Christopher and Jaimi.  Her love was unconditional.
After her second marriage she learned new skills and reentered the workforce as an administrative secretary working for United Cerebral Palsy of Nebraska.  After that she went on to work for the State of Nebraska Department of Health and Human Services and subsequently retired in 2011.  She loved working and always enjoyed helping others.  She was a courageous woman with a strong will to never give up on herself, her family, or her friends.  She died while fighting to recover her health after completing cancer treatments in 2016.
She is survived by her children, their spouses and five of six grandchildren; Doug and Karen Hahn, David Hahn and Lisa Carrara, Kelli and Bruce Evans and their daughters Samantha and Skylar, Dr. Christopher and Karlie Hahn and their daughter Delaney, Jaimi and Todd Calfee and their son Drey and their daughter Moriah.  She is also survived by her sister Caryle Donscheski, her brother Jerry Bartak, her nephew John Bartak, and her nieces Jessica (Cooper) Bartak and Sonya (Rule) Bartak. She was preceeded in death by her parents, her younger brother John Bartak, and her granddaughter Alexis Calfee.
Memorials to: the alexis Project or United Cerebral Palsy of Nebraska.
Funeral Services:  11:00 a.m. on Tues. Aug. 16, 2016 at St. Andrews Lutheran Church, 1015 Lancaster Ln., Lincoln.  A Visitation will be held on Sun. Aug. 14, 2016 from 4:00 – 8:00 p.m at Wyuka Funeral Home, 3600 "O" St., Lincoln.  Burial at Fairview Cemetery, 84th and Adams St., Lincoln.  Condolences at www.wyuka.com