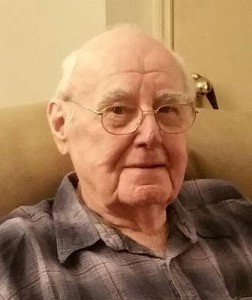 John G. Drydale age 86 of Lincoln passed away September 14, 2016.  He was born December 1, 1929 in Barnard, Missouri to Harry and Hope (Ware) Drydale.  John was a member of the million mile club several times during his career as a truck driver.
He is survived by his daughters and sons-in-law, Sharon and Gerald Sherman of Waverly; Anita Sue and Jeff Eastman of Lincoln; son and daughter-in-law, Mike and Donna Drydale of Houston, Texas.  Brother, Carrol Drydale of Barnard, Missouri.  Brothers-in-law, Duane Howard of Kansas City, Missouri and Carol Howard of St. Joseph, Missouri.  Grandchildren and spouses, Joshua and Tanith Sherman of Erieville, New York; Cody Sherman and Brittany Buskirk of Lincoln; Aaron Drydale of Tulsa, Oklahoma; Haley Drydale of Oklahoma City and their mom, Latha Coleman.  Great grandchildren, Autumn, Owen, and Tenley Sherman; EllieAnna Buskirk, Keaten Buskirk and Hadley Sherman.  He was preceded in death by his wife, Betty and his parents.
John requested his funeral be a private, family only celebration of his life.
Interment will be at Fairview Cemetery.
Memorials may be directed to Wyuka Funeral Home with proceeds to the family for a later designation.