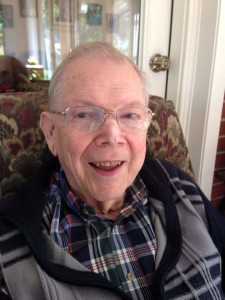 Bruce T. Shear Sr.  age 90 of Lincoln passed away September 29, 2016.  He was born December 15, 1925 in Lincoln to Walter D. and Aggie A. (Lemen) Shear.  Bruce started working as a clerk at Ideal Grocery while still a student at Lincoln High School in 1941.  He graduated from Lincoln High in 1944 and after graduation joined the U.S. Army until 1946.  While Bruce was in the Army he received a Bronze Star, Combat Infantry Badge and Expert Infantry Badge.  After the war, Bruce came home and became the produce manager and a partner at Ideal Grocery, retiring in 1990.  On June 8, 1947 he married Elnore Burns and at the time of her passing in 2014, they had been married 67 years.  Bruce was a life long member of Trinity United Methodist Church and was a member of American Legion Post #3.
Survivors include his sons, Bruce Jr. and Howard Shear; daughters, Rosanne Thomas, Susan Gildersleeve, Sonya (Bryan) Richardson, SuLyn (Jeff) Medvin and Henrietta (Steve) Haack.  Sister, Neta Adele Kelly.  6 grandchildren, 15 great grandchildren.  Many nieces, nephews, family and friends.  He was preceded in death by his wife, Elnore, his parents and 3 brothers.
Memorial Services will be held at 11:00 A.M. on Wednesday, October 5, 2016 at Trinity United Methodist Church, 7130 Kentwell Ln.  Lincoln.
Inurnment with military rites will be at Wyuka Cemetery.
Memorials to Trinity United Methodist Church.