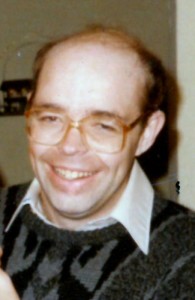 Rodney Lee Larsen, age 59 of Lincoln, NE left this world to join our heavenly father on Thursday, October 6, 2016. Rodney, the fourth child of Theodore (Ted) and Bernadeen (Bernie) Larsen of Exeter, NE, was born on May 12, 1957 at Friend Memorial Hospital in Friend, NE. His baptism took place at Our Savior's Lutheran Church and his confirmation at Trinity Evangelical Lutheran Church in Cordova, NE.
Rod faced challenges with disabilities, but his efforts to overcome them created a lasting and deep love for him from the many people who helped him over the years. Many coworkers, staff members, houseparents and housemates enriched Rod's life just as he enriched theirs. They gave him a better life year after year and the family is deeply grateful for the love and care they showed him.
Rod's family was his anchor, securing him with love and faith in Christ. Rod enjoyed the family's gatherings and the joy he took from his siblings and generations of aunts, uncles, cousins and his nieces and nephew.
Rod enjoyed his employment at community workshops and earned the nickname"Flash" for his speed and enthusiasm. At home, he loved games of all kinds, racing cars. movies and bowling. Halloween became a big special occasion for him thanks to the love of his extended family of Sedric and LeeAnn Harvey, who both helped give him such a wonderful life in the last few years.
Rodney is survived by his mother Bernadeen Larsen; brothers Larry, Tom and Wayne (David Rush); sisters Connie (Pete) Kreifels and Karen (Craig Kenworthy) Larsen; nieces Jessica Kreifels and Jackie (Cole) Meyer; nephew David Larsen; great nephews Ellis and Leo Meyer and extended family Sedric, LeeAnn and Reece Harvey. He was preceded in death by his father Theodore Larsen and brother Ted Larsen.
A viewing will be held at 9 a.m. on Tuesday, October 11, 2016, with funeral services provided at 10:30 a.m. at Wyuka Funeral Home in Lincoln at 3600 O Street. Committal services will be at Zastrow Cemetery near Cordova, NE, at 2 p.m. the same day. The family invites memorial donations to the Region V Foundation, 1430 South Street, Ste. 203, Lincoln, NE 68502 or at www.region5services.com/who-we-are/the-foundation       Condolences may be left at www.wyuka.com