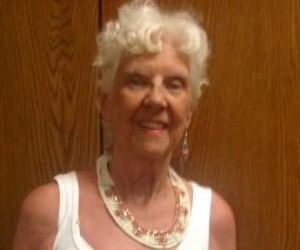 Norrita A. Chick age 78 of Lincoln, passed away October 10, 2016.  She was born November 23, 1937 in Dunmore, Pennsylvania to Victor and Doris Ruth (Woodward) McCauley.  Norrita was married to George Chick in Scranton, Pennsylvania on June 19, 1954 and they were blessed with six children.  She was a member of St. John the Apostle Catholic Church.
Survivors include her husband, George Chick and their children and spouses, George S. Chick Jr.  Lucinda and Lars Davis, Michael W. Chick and Becky Chick, Stephen and Char Chick, Matthew and Chie Chick, Aileen Chick and her husband Douglas Hibbs.  Brother and sister-in-law, William and Loretta McCauley.  Grandchildren, Kelly Chick, Kevin Chick, Scott Davis, Robert Davis, Michael Davis, William Davis, Nichole Scoles, Ashley Chick and Tyler Chick.  Great grandchildren, Kristina Davis, Myla Davis, Elliana Davis, Quinton Davis, Amelia Davis, Blakely Davis, Alexa Massie, Kylie Massie and Isabella Scoles. Beloved cousin, Margaret Bowen.
Mass of Christian burial will be held at 10:00 A.M. on Saturday, October 15, 2016 at St. John the Apostle Catholic Church, 7601 Vine St. Lincoln.  The Rosary service will be held at 7:00 P.M. on Friday, October 14th at Wyuka Funeral Home.
Visitation will be at Wyuka Funeral Home on Friday, October 14th from 1:00-8:00 P.M.
Interment will be at Fairview Cemetery, Lincoln.
Memorials to the Providence Cancer Center,  4805 NE Glisan St.  Portland, OR 97213 for pancreatic cancer research.