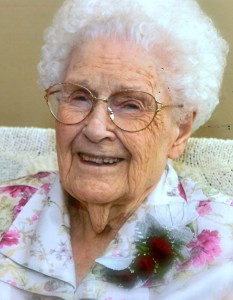 Stella Arnold Robert, age 101, of Lincoln, died on Oct. 31, 2016. Stella was born in Phillips, Nebr.  in 1915 to Earl and Edna (Harvey) Arnold; the oldest of seven children.  Her father was a farmer and electrician.  She was the last of her High School graduation class from Phillips, Nebr.  Stella was wed to Henry Robert in Nov. 1937; Henry worked for American Stores Co., and Stella worked as a book binder for the University of Nebraska.
Stella is preceded in death by her parents; sister, Joyce English; and brother, Bob Arnold.
She is survived by her daughters Reta Farnsworth and Ronda (Dean) Piersol; son, Richard (Anita) Robert; three grandchildren; five great grandchildren; and two great great grandchildren.
A Memorial Service will be held at 2:00 p.m. on Thurs. Nov. 10, 2016 at Wyuka Funeral Home Chapel, 3600 "O" Street, Lincoln. Cremation with no viewing. Family burial at a later date.  Condolences may be left at www.wyuka .com