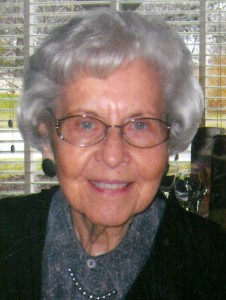 Nola Jean Newsham, age 91 of Lincoln, passed away at Eastmont Towers on Nov. 3, 2016.  Her family was most important to her; she will be remembered as a loving wife, mother, grandmother, great grandmother, and loyal friend.  Nola Jean was born August 6, 1925 to Joseph and Anna Chore in Gregory, South Dakota.  She had three older sisters – Viola, Geneva and Eleanor.  She attended Northeast High and Neb. Wesleyan University where she was a member of the Willard Sorority.  Nola Jean was a charter member of the Neb. Assoc. of Bank Women.  In 1975 with one other employee, she started First Savings Company of Lincoln for First National Corporation.  She retired as an AVP from First Tier Bank in 1987.  She also belonged to PEO, Chapter Al.  She was on the Neb. Board of Trustees and the Pension Board of the Neb. Conference of the United Methodist Church, where she has been active since 1935.
Nola Jean married Lloyd Newsham on March 24, 1945, and they had three daughters. She is survived by her three daughters Judy Torrens of Omaha, Karen White and husband Tom of Lincoln, and Joyce White of Lincoln; grandchildren Jacob Torrens of San Francisco,CA, Sara (Bill) Prince of Arlington Heights, IL, Zachary (Andrea) White of Lincoln, Seth (Nicole) White of Omaha, Anna White of Marina del Rey, CA, Whitney (Chad) Tonkinson of Brunswick, OH, and Joshua White of Flagstaff, AZ; great grandchildren include Addison Prince, and Koa, Luna, Thomas, and Eloise White.  Also surviving is her sister Eleanor Peters and  husband Ruben.
Nola Jean is preceded in death by her husband; parents; sisters Viola Petty and Geneva Stearns; and grand-daughter Aimee Torrens.
Memorial Services will be held at 11:00 a.m. on Sat., Nov. 12, 2016 at First United Methodist Church, 50th and St. Paul, Lincoln,  with interment of cremains to follow at Wyuka Cemetery, Lincoln.  Cremation with no visitation.  In lieu of flowers Memorials may be directed to First United Methodist Church or Eastmont Towers.  Condolences at www.wyuka.com