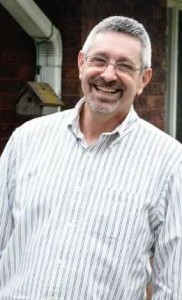 Steven Wayne Wroughton, the son of Richard and Lorraine (Kelley) Wroughton was born on May 19, 1957 in Superior NE. He was called home by his Lord and savior on November 9, 2016 at the age of 59 years. Steve graduated from Nelson High School in 1975. He served our country in the U.S. Army from 1975 to 1978 and was stationed in Germany.
Steve returned to Nebraska and discovered that he had a special knack for computers and worked in information technology. Steve's faith was a central part of his life. As a faithful servant of Jesus Christ, Steve was an active member of Calvary Community Church and involved in the music ministry, playing guitar at Calvary and the Lincoln Berean Church. He married Becky McNitt on March 17, 1989. Steve loved camping, concerts, spending time with friends and family events.
Steve is survived by his wife Becky, sons Brandon of Hebron KY, and Austin of Lincoln NE, parents Richard and Lorraine Wroughton of Superior NE, grandchildren Owen and Quinn Wroughton of Hebron KY, brother David Wroughton of Superior NE and brother-in-law Martin Rowland and his wife Sandy of Milford NE, as well as numerous nieces, nephews, in-laws, other relatives, and a host of friends. He was preceded in death by his sister, Janet Rowland, and his grandparents.
Memorial services will be held at 11:00 A.M., Tuesday November 15, 2016 at Calvary Community Church, 4400 First Street, Lincoln, NE.  Family will greet friends one hour prior to service time.
In lieu of flowers, memorials may be made to the Lincoln food bank.