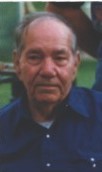 Harold Lloyd Dennis, a life long resident of Lincoln passed away at the age of 91 on November 10, 2016 at Bryan Hospital East.  He was the son of Charles H.R. Dennis and Sarah E. (Harvey) Dennis, also of Lincoln.  He was born April 9, 1925 in Lincoln, after high school at the age of 18, he enlisted June 18, 1943 in the Army.  He served three years in the Army during World War II, in the 123rd Infantry, Co. L, 33rd Division Illinois.  "The Prairie Division", Men of the Golden Cross.  Battles he fought in were at Luzon, New Guinea and the Philippines.  He won many medals, a few being the Asiatic Pacific Campaign Service with 2 bronze stars, Philippines Liberation Ribbon with 1 bronze star, World War II Victory Medal and the Good Conduct Medal – Inscribed.  He was discharged from the Army on January 17, 1946.  He returned home, met and married Annie Mae Bates on November 22, 1947 at his sisters home.  Harold and Ann raised five children; Paul B. Bundy, Carolyn (Dennis) Kress, Jean (Dennis) Masek, Lloyd and Rocky Dennis.
Harold enjoyed and loved his family very much, they were always first.  His interest were watching NASCAR and football, especially the Nebraska Huskers on his 60″ television.  He had a big laugh, crazy stories told with colorful language that on occasion, were actually true.  Before retirement he was employed at Wells Fargo Armored Services and later Nebraska Correction Department.
He was preceded in death by his wife of 65 years, Annie Mae (Bates) Dennis, who passed away in 2013, and two sons, Paul B. Bundy who passed away October 2013 and Lloyd Dennis who passed away May 2016.  He is also preceded in death by five brothers, Hartson, Cliff, Marvin, Bill and Edward Dennis; and four sisters, Etta Mae and Bettie Jean Dennis, Dorothy (Denis) Housel and Marie (Dennis) Truksa.
He is survived by his three children, 12 grandchildren, 16 great grandchildren and 3 great, great grandchildren.
Memorial services will be held at 11:00 A.M. on Wednesday, November 16, 2016 at Wyuka Funeral Home.