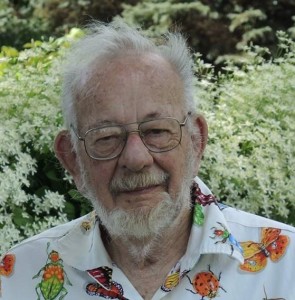 Dr. Kenneth P. Pruess age 84 of Lincoln died December 11, 2016.  He was born June 21, 1932 in Troy, Indiana to Elmer and Clara (Grass) Pruess.  Kenneth graduated from Purdue University in 1954 and earned his doctorate from The Ohio State University in 1957.  He married Neva Currie on June 15, 1963.  Dr. Pruess was Professor Emeritus at the University of Nebraska.  He was at the North Platte Experiment Station 1957-1965, Entomology Department at UNL 1965-1997 and Entomology Department UNL Emeritus 1997 until the time of his death, continuing his research until December 8, 2016.  He taught and researched range land grasshoppers, army cutworms, computer modeling for pest management, aquatic insects, black fly taxonomy and alfalfa weevil taxonomy.  Dr. Pruess was an academic coach for the Linnean Games which is an entomology graduate student competition.  His memberships include being a 60 year member of the Entomological Society of America, North American Black fly Association, Lincoln Stamp Club, American Philatelic Society, American Revenue Association, American Topical Association and Cornhusker Fly Fishers.
Survivors include his wife, Neva Pruess of Lincoln, their daughter and son-in-law, Carleen and Ken Coulter of Frankfort, Illinois.  Sister and brother-in-law, Ruth and Don Johnson of Terre Haute, Indiana.  Numerous nieces and nephews.  He was preceded in death by his son, Cameron and his parents.
A memorial gathering will be held in the "Garden Room" at Wyuka Funeral Home beginning at 4:00 P.M. on Thursday, December 15, 2016.
Memorials in lieu of flowers to the Nature Conservancy or the American Philatelic Society.