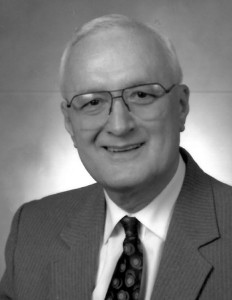 George S. Chick, age 83 of Lincoln, passed away December 26, 2016.  He was born April 28, 1933 in Scranton, Pennsylvania to Michael and Mary (Badek) Chickalochick.  George was married to Norrita McCauley in Scranton, Pennsylvania on June 19, 1954 and they were blessed with six children.  He was a member of St. John the Apostle Catholic Church, Lincoln. George's education included: Scranton High School, University of Scranton General Engineering, University of Detroit B.A. in Architectural Engineering, and Wayne State University, Mich. in Public Administration And Urban Planning. His primary occupation was Director of Urban Development (retired) Lincoln, Nebr. 1976-1995.
George was also Community Development Director in Highland Park, Mich.; along with Young Man of the Year 1963; 5th Bi-Annual HUD Design Award 1972; had articles published called "Chick Chat"; 2 HUD Certificates of  National Merit 1982; and Community Development Partnerships.
In Lincoln, Nebr. his accomplishments included the Original Cornhusker Hotel and Conference Center Project and its expansion; Nebr. Radial Reuse Project; Downtown Lincoln Housing Project; Member of Development Team on Old Market District in Haymarket Historic Old Town and Warehouse District.
Preceded in death by his wife Norrita Ann Chick; his parents Mary & Michael Chickalochick, and his brother Michael Chickalochick Jr.
Survivors include their children and spouses, George S. Chick Jr.,  Lucinda (Lars) Davis, Michael W. Chick, Stephen (Char) Chick, Matthew  (Chie) Chick,  Aileen (Douglas) Chick-Hibbs, Becky Chick, Linda Chick; brother-in-law William (Loretta)  McCauley;  grandchildren Kelly,  Kevin, Ashley, and Tyler Chick, Scott, Robert (Meredith), Michael (Kathleen), and William Davis, and Nicki (Zack) Scoles; great grandchildren, Kristina, Myla, Elliana, Quinton, Amelia, and Blakely Davis, Alexa and Kylie Massie, and Isabella Scoles; and beloved cousins, Margaret Bowen .
Mass of Christian Burial will be held at 10:00 A.M. on Tuesday, Jan. 3, 2016 at St. John's Catholic Church, 7601 Vine St., Lincoln. Burial at Fairview Cemetery, Lincoln.  A Rosary will be held at 6:00 P.M. on Monday, Jan. 2, at Wyuka Funeral Home, 3600 "O" St., Lincoln, along with Visitation from 2:00-6:00 P.M.  Condolences www.wyuka.com