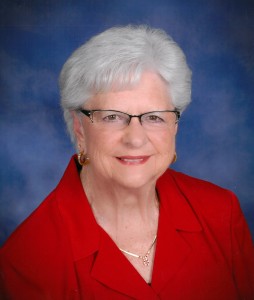 Bernice Mae Peterson of Lincoln passed away on Saturday, December 31, 2016.  Bernice was born in Carroll, NE on February 15, 1927, to James Wilber Hampton and Maud Adelle (McIntire) Hampton. She was the middle child of eight and loved growing up in a house full of hard working, fun loving, family! She married her high school sweetheart, Paul Olaf Peterson, on November 6, 1945 in Wayne, NE. The two were blessed with three daughters and four grandchildren in nearly 64 years of marriage. Bernice recently welcomed a great granddaughter!  She earned her cosmetology license in 1965 and enjoyed the profession for nearly 30 years in Scottsbluff, Alliance and Lincoln, NE. She greatly enjoyed, being a wife and mother, raising the girls, and taking care of her home, with a knack for decorating. She often shared in the family business, working in retail with Paul in several communities in Nebraska.   Bernice was a member of Naphis Temple #66 Daughters of the Nile, Shrine Widows Association, and mostly loved being Paul's "Lady Bernice" in their many Shrine and Masonic activities and philanthropic endeavors. Bernice was a golfer, bowler, cook, baker, and gardener, with a green thumb that nurtured beautiful flowers and plants!
 Bernice is survived by children, Paula and Dennis Tofteland of Boise Idaho; Lana Peterson-Pressler of Lincoln, NE; Mona Peterson of Boise Idaho. Grandchildren Anna Pressler, Dustin Tofteland, Elizabeth Bunn, Heather and Jon Rouwenhorst, great granddaughter, Kadence Rouwenhorst; numerous nieces and nephews. Her beloved husband Paul, four brothers, three sisters-in-law, three sisters, three brothers-in law, two nephews and her parents precede her in death.
 The family invites you to a memorial service on Saturday, January 14, 2017 at 11:00 AM, at First Lutheran Church 1551 South 70th Street, Lincoln, NE. Please join us for lunch at the church following the service.
 Memorials may be directed to Sesostris Shrine Hospital Transportation Fund, c/o Sesostris Shrine, 1050 Saltillo RD, Roca, NE 68430 and First Lutheran Church, 1551 South 70th Street, Lincoln NE 68506.