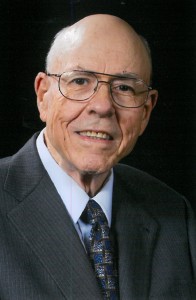 Darrell G. Watts age 80 of Lincoln, passed away January 10, 2017.  He was born October 12, 1936 near Martha, Oklahoma to Herman B. and Lou Whilden (Williams) Watts.  Darrell received his B.S. in agricultural engineering from Oklahoma State in 1960, his masters degree in irrigation engineering from the University of California-Davis in 1962 and his Ph.D. in agricultural engineering from Utah State in 1975 and was a professor in teaching, research and extension at Oregon State University, Haile Sellassie University in Ethiopia, University of Nebraska.  MIAC Morocco project P.I.  Nebraska MSEA water quality project.  He lead numerous short term consulting trips on water management in Colombia, Chile, Russia, Morocco, Niger, Zaire, Brazil and Argentina.  Darrell received the Distinguished Service Award from UNL in 1988, honorary professor from the University of Concepcion in Chile in 1997, USDA group honor award for excellence, MSEA project in 1997, ASAE Nebraska Section, Engineer of the Year in 1997, research team award from UNL in 1998 and was inducted into the Biological Systems Engineering Hall of Fame in 2009.
Survivors include his wife Lois Watts of Lincoln, daughter and son-in-law, Sylvia and Danny Kelly of Lincoln and a son Joel Watts of Lincoln.  Brother and sister-in-law, Robert B. and Alva Watts of Eolia, Missouri.  He was preceded in death by his parents.
A celebration of life service will be held at 2:00 P.M. on Sunday, January 22, 2017 at the University of Nebraska East Campus Union.
Interment of ashes will be 11:00 A.M. on Monday, January 23, 2017 at Wyuka Cemetery.  Family and friends will meet at Wyuka Funeral Home prior to 11:00 A.M.
Memorials to the Pulmonary Fibrosis Foundation, UNL Foundation or Region V services for the handicapped.