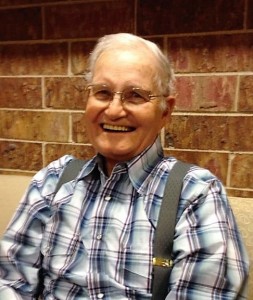 Darwin Royce Spady, 84, died January 15, 2017 in Lincoln.  He was born December 7, 1932 to Clarence and Nelda (Kelly) Spady in Imperial. Darwin was the oldest of three siblings, Doris, Dennis, and Deloyce (Pete).  Darwin grew up in Imperial and graduated from Imperial High School in 1952. In 1959, he fell in love with and married Elva Ann Zech. To this union, three children were born: Cathleen Kay, Tammy Linn and Scott Lee.  Darwin was a wonderful and loving husband and always made family his priority. The family enjoyed many vacations to visit relatives and see national parks. Darwin also enjoyed hunting and fishing with relatives, especially his son, Scott.
He was a carpenter by trade and built homes with his father and brothers' construction company in Imperial. Darwin and his family moved to Lincoln in the late 1970s where he worked in construction in and around Lincoln.  Darwin was a Christian, attending Messiah Lutheran for over 40 years in Lincoln.  He retired in 1996 and took a part-time position working and serving at Messiah Lutheran Church as head custodian/maintenance. He also enjoyed spending time at the Messiah Lutheran school helping teachers with classroom needs and seeing and talking with the students.
In later years, after his wife's passing, Darwin enjoyed spending time with long-time close friend Helen Leonhardt. Helen faithfully visited Darwin at Holmes Lake Manor and would read to him and play the piano.
Darwin was preceded in death by his parents, Clarence and Nelda Spady; wife, Elva Ann Spady; sister, Doris (Spady) Baldwin; and brother, Dennis Spady.  Daughter-in-law, Jennifer Lynn Spady.
Surviving are his children, Cathleen (Marty) Mastagni of McCloud, OK; Tammy (Mark) Emery of LaSalle, CO; son, Scott of Lincoln; and grandson, Matthew Emery of LaSalle, CO.  Brother, Deloyce "Pete" Spady of Imperial, Nebraska.  Step-granddaughters and Spouse, Jillene and Matthew Reichle of Wichita, Kansas, Alicia Mastagni of Edmond, Oklahoma.  He will be missed by a multitude of family and friends.
Services will be held at 10:00 A.M. on Friday, January 20, 2017 at Messiah Lutheran Church, 1800 S. 84th, Lincoln.
 Visitation will be held at Wyuka Funeral Home on Thursday, January 19th from 11:00 A.M. until 8:00 P.M. with family greeting friends from 4:00 until 8:00 P.M.
Interment will be at Fairview Cemetery, 84th and Adams, Lincoln.