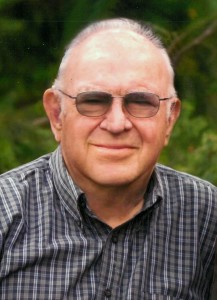 Clarence Christensen, Jr., age 94, of Lincoln, died Feb. 12, 2017. He was born on a farm in Hooper, Nebr. and helped his father with the farm until the Depression when his family moved to Fremont.  There he helped support the family by delivering newspapers. In his teens, they moved to Dwight, where Clarence helped his father in the family's machinery repair shop.  During high school, they moved to Valparaiso and he attended Valparaiso High School.  As a teenager, he built a ham radio, secured a license and communicated with ham radio operators around the country, even serving as an operator for the Amateur Radio Emergency Service (ARES).  Clarence survived Scarlet Fever as a child, causing him to graduate a year later.
Clarence worked with his family at Christensen Implement in Valparaiso where they repaired and sold farm equipment -there he was able to purchase a ride with a barnstormer pilot, launching his love for flying. He volunteered for the Army Air Corps to train as a B24 pilot.  At 22, he flew 35 combat missions over Europe during WWII, and brought his 9-member crew home safely to conclude their tour.  Clarence earned two distinguished Flying Crosses for his bravery.
After the war, he joined the Nebraska Air National Guard where he not only served as an aircraft instructor, but also worked as an aircraft maintenance officer earning and honoring the respect of the aircraft mechanics; finishing his career with the military as a Director of Operations.
Clarence bridged the gap between propeller airplanes of the 1940's such as the B24 (and his favorite, the P51), finishing his career in the supersonic RF4. None of his personal achievements surpassed his winning the prestigious Ricks Trophy Race.  Representing the 173rd Fighter Interceptor Squadron, "Chris" Christensen flew his F-86D Sabre jet over the 850-mile course between Jacksonville, Florida and Dallas, Texas in one hour, forty-eight minutes and twenty seconds. He was inducted into the Nebraska Aviation Hall of Fame in 1993.
Preceded in death by his wife, Ruth; daughter Jeanne Schneider; and grandson, Anders Ukinski.
He is survived by his son Dan and family; daughter Cynthia and family; and son, John; including 6 grandchildren and 11 great-grandchildren.
Funeral Services will be held at 10:30 am on Thurs., Feb. 16, 2017 at American Lutheran Church, 42nd & Vine St., Lincoln, NE.; with burial to follow the reception.  Burial in Valparaiso.  Visitation will be held from 4:00 – 8:00 pm on Wednes., Feb. 15th, at Wyuka Funeral Home, 3600 "O" St., Lincoln.  Memorials to the Village of Valparaiso Park Fund. Condolences www.wyuka.com