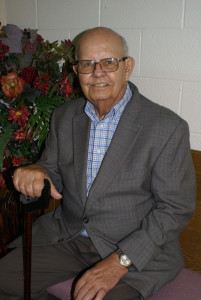 Robert "Bob" Henry Gross was born October 12, 1928 in Havelock to John and Katherine (Roth) Gross, the 8th of 8 children.  He died peacefully, surrounded by his family on February 19, 2017 at Gramercy Hill in Lincoln.  He enlisted in the Army Air Corps in 1946.  He married Betty Burianek on May 14, 1949. He worked for Burlington Shops in Havelock, as a carpenter in California, and as a Conductor for the Burlington Northern Railroad.  He was an avid woodworker who made lots of wooden names for people he met.  He enjoyed fishing and traveling in his Airstream.  Over the years, he volunteered at the Veteran's Hospital and at Crossbridge Christian Church.  He was a member of Burlington Campers, Airstream Club, BN Veterans and BN Club.        
Survivors:  wife, son Gary Gross, Daughter Colleen (Craig) Wittstruck, Grandchildren; Tami (Greg) Prang, Robert Gross (Leah Carrera), Courtney Wittstruck, Casey (Whitney) Wittstruck, Jessica (Brent) Foreman, Cole (Bonnie) Wittstruck, and John Gross (Erica Spanyers).  Great-grandchildren; Logan, Carter, Brynley & Macy Prang, Liam & Grace Wittstruck, Audrey & Adelyn Foreman, and Gabi Carrera.
Preceded in death by parents, brothers Walter, Johnny, Otto, sisters Caroline, Ernestine, and infant sisters Bertha and Virginia.
Funeral services will be held at 11:00 A.M. on Thursday, February 23, 2017 at Wyuka Funeral Home.
Visitation will be on Wednesday, February 22nd from Noon until 8:00 P.M. with family greeting friends from 7:00-8:00 P.M. at Wyuka Funeral Home.
Interment with military honors will be at Fairview Cemetery.
Memorials to the family for a later designation.