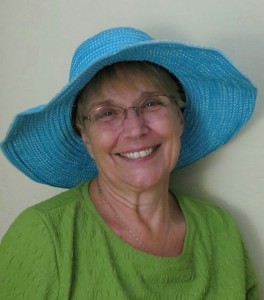 In loving memory of Kathleen Margaret (Tate) Struve. Kathy passed
away peacefully at her home in Green Valley, Arizona on February
18, 2017 surrounded by family.
Kathy was born March 6, 1946 in Minneapolis, Minnesota to Don
and Frances Tate, the oldest of five children. She married John
Struve on August 13, 1966 in Lincoln, Nebraska. They lived in
Lincoln until 1969 when they moved to Wayne, Nebraska. Kathy's
most important job in Wayne was being a mother to their four
children at which she excelled. She was a small business owner of
a wallpapering and painting business. She earned her
undergraduate and master's degrees from Wayne State College and
taught for a year in Winside, Nebraska. In 1988, she moved to
Manhattan, Kansas for John's career. In Manhattan, she was the Business Manager for the
Department of Grain Science at Kansas State University for about 18 years. In 2009 Kathy retired
from K-State. She and John moved to Green Valley in 2010, first as snowbirds then full-time in
2012.
Kathy and John celebrated their 50th wedding anniversary during the summer of 2016.
Kathy had a love of all things that grew. She especially liked flowering plants and nurturing
African violets. She was a skilled quilter having made numerous quilts for her grandchildren and
others. While in Wayne, Kathy was a member the First Presbyterian Church and the Order of the
Eastern Star. In Manhattan, through the Rotary Youth Exchange Program, Kathy and John had
the opportunity to host two foreign exchange students from Japan and from Turkey. Kathy was
a member of the Green Valley Camera Club and enjoyed taking photos of Southwest scenery but
particularly Sonoran Desert flowers. She was also a member of the Green Valley Ceramics Club,
the Sonoran Astronomical Society and was a volunteer at the White Elephant thrift store in Green
Valley. Kathy and John took several cross-state trips on their tandem bicycle including Iowa,
Nebraska, Wisconsin, Missouri and the west of Ireland.
Kathy is survived by her husband John and her children, Laura (Kris) Weddell, Ashley (Jessie) and
Rebecca; Julie (Todd) Dorcey, Madison, Tate, Kora and Regan; Jeff (Sharon) Struve, Natalie, Maisy,
Ruby and Cleo and Melissa (Ralph) Thomas, Logan and Leia, her Father Don (Marion) Tate, sisters
Adele (Harry) Tate and Nancy (Mark) Cross and brother James (Kelly) Tate along with numerous
cousins, nieces and nephews. She was preceded in death by her mother Frances Tate and brother
Kelly (Lori) Tate.
Memorial Services will be held at Wyuka Funeral Home and Cemetery located at 3600 O Street
in Lincoln Nebraska on March 11, 2017 at 10:00 am. In lieu of flowers, memorials may be sent
to: National Ovarian Cancer Coalition-Tucson, P.O. Box 12261, Tucson, AZ 85732; University of
Arizona Cancer Center Development Office, 1515 N Campbell Ave, P.O. Box 245013, Tucson, AZ
85724-5013 or Carondelet Hospice and Palliative Care, 1802 W St Mary's Rd, Tucson, AZ 85745.
A final note, Kathy would want every woman to become familiar with the symptoms and risk
factors of ovarian cancer at www.ovarian.org.