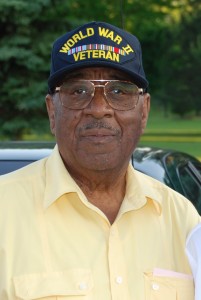 Calvin Rife, Sr. was born in St. Joseph, Missouri on July 3, 1924 to Pearl and Homer Rife, Sr.  He was preceded in death by his parents; brother, Homer, Jr.; and sisters, Helen, Roberta, and Louise.  He moved to Lincoln in 1940.  In 1943, Calvin enlisted into the U.S. Army.  He served in the European campaign, including Normandy, northern France, the Ardennes, Rhineland, as well as locations in the Pacific Theater.  Calvin earned several decorations and citations, including the American Service Medal, European African Middle Eastern Service Medal, Asiatic Pacific Service Medal, Philippines Liberation Ribbon, World War II Victory Medal, and Good Conduct Medal.  He was a member of V.F.W. Post #131/#3606 and American Legion Post #3.  Calvin was able to participate in one of the last World War II Honor Flights from Nebraska to visit Washington, D.C.
When he returned , he married his high school sweetheart, Shirley Nevels, on August 21, 1946.  Calvin worked for the U.S. Post Office for 35 years as a custodian, general mechanic, office clerk, labor foreman, and superintendent of building services.  He received an award for contributing to the suggestion program and was a member of the EO program, as well as being President of Local 16 Union.
Calvin worked several times at KUON TV on a Negro documentary, "Black Frontier".  He also received an award for his work in a play, called "You Can't Take it with You", at the Lincoln Community Playhouse.  He served on the Board and was President of the Lincoln Senior Golf League.
Calvin was a member of Quinn Chapel Church and served as a Sunday School teacher and trustee.  He was the local minister under the direction of Rev. Marian Jones.  He received certificates from the Back to the Bible Correspondence School.  Calvin was also a member of Lebanon Lodge #3 F & AM, serving as Worshipful Master from 1977 to 1981 and as G.E.C.F.C. in 1996.
After he retired from the Post Office, Calvin travelled extensively with his wife, Shirley.  He also worked as a volunteer income tax assistant for many years and in 1990, he received a certificate from the IRS in recognition of his work at the Good Neighbor Center.  The group was recognized by the Governor.  He believed in the Peoples City Mission and the Make-a-Wish Foundation.
Calvin passed away after an illness on April 21, 2017.  He is survived by his beloved wife, Shirley; his brother, John Rife; his sons Calvin, Jr. (Janet) of Lincoln, Roger (Kolete) of Austin, Texas and Michael (fiancé Janis) of Lincoln; his grandsons Shawn (Shane), Jason, Justin, Christopher (Ashley), and Brandon Rife; and his great grandchildren Jordan, Aaron, Dylan, and Olivia Rife; as well as nieces and many friends.
Memorial services are scheduled for 11:00 A.M. on Saturday, April 29, 2017 at Wyuka Funeral Home in Wyuka Cemetery in Lincoln.  The Reverend Harry Riggs II will officiate.  Memorial gifts can be directed to the family to honor Calvin at a future date.