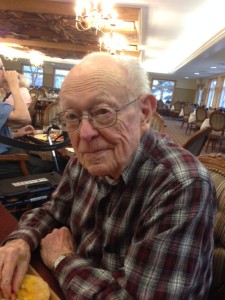 Ivan Thomas Rathbun age 99 of Lincoln passed away April 25, 2017.  He was born October 1, 1917 in Columbus, Nebraska to William and Mary Rathbun.  Ivan enlisted in the U.S. Army in 1941 serving until 1945.  He worked at UNL as an engineer.
Survivors include his wife, Alice Rathbun, son and daughter-in-law, Tom and Nikki Rathbun of Lincoln.  Daughters and sons-in-law, Sue Rathbun and Gary Huff of Des Moines, Iowa; Lee and Del Meyer of Fremont, Nebraska.  Grandchildren, Ryan Rathbun, Anthony Jacobsen, Christopher Huff, Nicholas Huff, Shayla Bushhousen and Shannan Page.  8 Great grandchildren.
Mass of the Resurrection will be at 2:00 P.M. on Saturday, April 29th at Cathedral of the Risen Christ in Lincoln.
Visitation will be held at Cathedral from 1:00 P.M. until service time on Saturday.
Interment with military rites will be at Wyuka Cemetery.
Memorials to the Fremont Opera House.