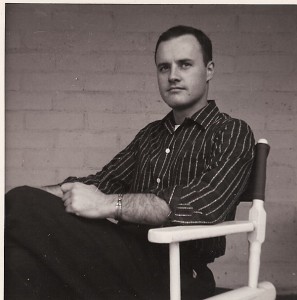 Dr. Charles Lawrence Swafford Barton of Lincoln, NE, died on April 19th in Scottsdale, Arizona, after a prolonged illness.  Charles was born on July 16th, 1935, in Rome, Georgia, to Frida Wesgate and George Swafford.  Following a divorce, Frida and her two sons (Wesgate and Charles) moved to Pierre, South Dakota, to be close to her family.   Frida was employed by the state of South Dakota as the state brand director for cattle, horses, sheep and hogs.
Charles´s mother remarried a local rancher, DeWolfe Barton who adopted Charles and his brother and they grew up on a cattle ranch outside of town. After graduating from Pierre High School, he attended Harvard University and finished his studies in 1957 with a degree in psychology. During his undergraduate years, he played clarinet in the Harvard band and studied with behavioral psychologist, B.F. Skinner.  After graduation in 1957, Charles was offered a seat with the Boston symphony but by that time, his mother and stepfather had sold the ranch and moved to Tucson, Arizona.  He left the East Coast and moved to Arizona but his interest in ranching and farming lasted all his life.
Charles Barton married Anne Mook in Phoenix, Arizona, in 1959. He attended the University of Tennessee Medical School in Memphis, Tennessee, graduating in March of 1965. His internship was at St. Joseph´s Hospital in Phoenix, Arizona, which was followed by a residency in ENT Head and Neck Surgery at the Ohio State University Hospital.
Shortly after finishing his residency, he was drafted into the armed services during the Vietnam conflict and served stateside for two years in the Air Force at Wright Patterson AFB in Dayton, Ohio. After that, he entered private practice in Lincoln, NE, where he attended patients for 40 years. In 1996, he became a board certified allergist.
While medicine was Charles's main passion, he was equally as enthusiastic about other activities. He served as the president of the Lancaster County Medical Society, President of the Lincoln Community Foundation, and was a board member of St. Elizabeth's Hospital for nine years.  Aviation was another passion and he earned his pilot's license in the 70's.  Later, he would make use of his pilot's license to attend patients in smaller cities in Nebraska without an ENT specialist.
Charles is survived by his wife his loving wife Anne Barton, Lincoln, NE; son Charles Barton, Chicago, IL; daughter and son-in-law, Valerie and Roland Kyllmann, Santa Cruz, Bolivia; grandchildren, Sebastian and Sophia Kyllmann, son Jason Barton, Scottsdale, AZ; and grandson Preston Barton.
Memorials can be made to the Lincoln Foundation. The burial will be held at Wyuka Cemetary at 9:00 a.m. on Saturday, May 13.  Susanna DesMarais will lead the memorial service at Holy Trinity Episcopal Church at 10:30 a.m. at 6001 'A' St on the same day, May 13.  Condolences may be offered at wyuka.com.