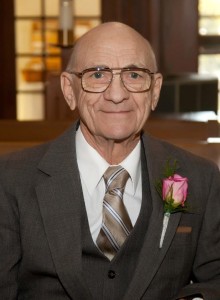 Dennis William Ohnoutka, 89, of Lincoln, Nebr. passed away on June 3, 2017 in Lincoln.
Born on March 10, 1928 in Touhy Nebraska to Emil and Josephine (Skokan) Ohnoutka. Dennis attended Touhy grade school and graduated from Valparaiso High School. After driving truck for Touhy Transfer Company, Dennis joined the US Navy, where he served on the Destroyer USS Collette in the South Pacific. On Aug. 26, 1947, Dennis married Donna Mae Armitage in Touhy where they lived until 1976 before moving to Lincoln. After driving for multiple trucking firms, he was hired at Gooch Foods as a long haul driver for over 25 years, until his retirement. In his younger years Dennis played baseball on town teams throughout the Saunders County area. He really enjoyed watching his children, grandchildren, and great grandchildren participate in all sports. Donna and Dennis attended Husker football and Kansas City Royals games for many years. In retirement they enjoyed traveling, gardening, woodworking and their poodles, Charlie and Jamie.
Dennis is survived by his four children, David W. Ohnoutka, Linda (Stan) Berlowitz, Diane (Steve) Spradling, and Mick (Karen) Ohnoutka, all of Lincoln; nine grandchildren, Jeff (Debbie) Ohnoutka, Doug (Mindy) Ohnoutka, Karie (Dave) Sayker, Rob Noha, Ami Heffelfinger, Ritch (Cassie) Spradling, Tim (Andrea Gebhart) Ohnoutka, Eric (Katie) Ohnoutka, Jason (Mirela Simic) Berlowitz; eighteen great grandchildren; many nieces and nephews; and special friends Jeanette Brown and Julie Andresen.
He was preceded in death by his parents; wife Donna; brothers George (Lucille) Ohnoutka, Emil (Della) Ohnoutka, and Leo (Rose) Ohnoutka.
A Funeral Service with Rosary will be held at 11:00 a.m. on June 7, 2017, with Visitation one hour prior at Wyuka Funeral Home, 3600 "O" St., Lincoln. Burial with Military Honors will commence at 1:15 p.m. at Fairview Cemetery, 84th & Adams, Lincoln.  Memorials to The Lexington Assisted Living/Recreation and Tabitha Meals on Wheels.  Condolences www.wyuka.com