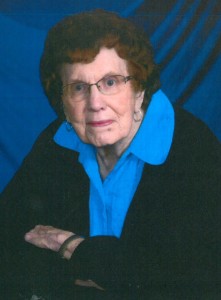 Lenora Delores "Dee" Clark, age 86, of Lincoln died June 25, 2017. Dee passed away peacefully surrounded by her family due to medical conditions she had in this year.  Dee was born to Floyd and Elizabeth (Kidd) Daily in Hiawatha, KS.  She graduated High School in Holton, KS.
A southern gentleman Fred Clark, came into her life in 1949 and swept her off her feet. They married in 1950 and began their life in the south, which led to living in many states.  From this union they were blessed with 3 daughters and a son.
Upon settling in Lincoln, Dee worked at Holiday Inn; Culler Junior High & Northeast High Schools in the cafeteria; and lastly Norden Lab/SmithKline for 20 years, retiring in 1990. After retiring she operated her own cleaning services.  She had people say "they couldn't find anyone who cleaned better."  A hard worker from an early age.
She was a member of 2nd Baptist Church in Lincoln, participated in Bible Study; ABW; yearly garage sales; and she found volunteering at Matt's Kitchen thru the church most rewarding.  Dee loved attending her grandchildren's activities, spending time with her great granddaughter brought a smile to her face. She enjoyed collecting different items, going to garage sales and selling her treasures at Aardvark Antique Mall.  Bingo was a favorite.
Dee's greatest passion was helping others, especially her family.
Preceded in death by her parents, husband, two brothers, daughter Cathy Lynn, granddaughter Morgan Clark, and great grandson Axton Nolte.
Survived by daughters Linda (Roger) Nolte of Lincoln, Patricia (Dave) Holle of Kennesaw, GA; son Larry (Diane) Clark of Lincoln; grandchildren Wade Nolte of Lincoln, Austin Nolte of Brooklyn, NY, Derek Holle of Kennesaw, Jordan Clark of Sarasota, FL, Rylee Clark of Lincoln; great granddaughter Amelia Nolte of Lincoln and many many friends.
Celebration of Life Service held at 1:00 p.m. on Thurs. June 29, 2017 at Wyuka Funeral Home, Lincoln. Burial at a later date in Powhatten Cemetery. www.wyuka.com