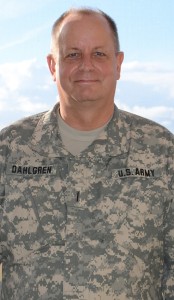 Thomas Albert Dahlgren, age 64, of Lincoln passed away September 5, 2017.  He was born September 20, 1952, in York, Nebraska, to Harry A. and Irene H. (Ellermeier) Dahlgren.  Tom graduated from York High School in 1970, and also earned a Bachelor of Science degree from the University of Nebraska-Lincoln in 1975 and his Master's in Business Administration from Touro University in 2003. 
A member of the National Guard for more than 40 years, Tom left for basic training just three days after graduating high school. He enjoyed a 35-year career with the U.S. Property and Fiscal Office with the Nebraska National Guard and later spent three years serving with the United States Virgin Islands National Guard in St. Croix. He retired as a Chief Warrant Officer 5 in 2012. After his retirement, Tom spent much of his time on the golf course and was an extremely proud "Papa" to his two granddaughters.
Left to cherish his memory are his wife, Judy (Reetz) Dahlgren of Lincoln, sons and daughters-in-law Jerod Dahlgren and Tanya Wright, and their daughter Hadley Dahlgren of Grand Island, New York; and Eric and Jamie Dahlgren, and their daughter Taylor Dahlgren of Urbandale, Iowa.  Brother and sister-in-law, Dick and Barb Dahlgren of Lincoln.  Step-mother, Elaine Dahlgren of York.  Step-brother and spouse, Chuck and Rita Pfenning of Lincoln; step-sister and spouse, Jo and Gary Warren of Aurora, Nebraska.  Tom was preceded in death by his parents.
Visitation with family will be held on Friday, September 8, 2017, at Wyuka Funeral Home from 5:30-7:30 p.m. 
Celebration of life service will be held at 11:00 a.m. on Saturday, September 9, 2017, at Southwood Lutheran Church, 9300 S. 40th Street, Lincoln.
Private family inurnment at Wyuka Cemetery.
Memorials to the National Parkinson Foundation, www.parkinson.org.