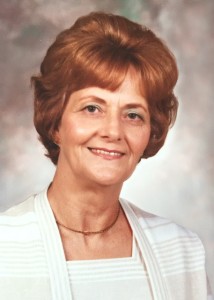 Donna B. Bergman, 90, of rural Ceresco, Nebraska passed peacefully away, Saturday, September 16, 2017.  She was born November 20, 1926 to Fred and Fannie (Conn) Mau in Harvard, Nebraska.  Donna graduated high school in Greybull, Wyoming.  She was a good student and athlete, excelling in spelling and earning track & field ribbons.  In 1947, she married Cleo C. Bergman.  Together they raised 4 children.
Primarily a homemaker, Donna also worked as a Miller & Paines' department store sales associate for over 25 years.  Donna & Cleo traveled extensively across the U.S.A., enjoying RV trips & winters in a warm climate.  A loving wife, mother, and grandmother, she liked gardening, family gatherings, pets, trips to casinos where she was unusually lucky, old TV westerns, big band music & reading, especially real life mysteries.
Preceded in death by her husband, Cleo, daughter Julie Bergman, son-in-law, Mike Moots.  Survived by son and daughter-in-law, Gary & Shari Bergman (Arizona), daughters, Sharon Moots (Colorado) & Jolene Thomas (Lincoln).  Grandchildren and spouses, Ryan and Liz Thomas, Lindsey and Soroud Fattah, Megan and Dane Merry.  Great grandchildren, Kameron, Gavan, Lana Fattah and Senna Merry.
Graveside services will be held at 11:00 A.M. Wednesday, September 20, 2017 at Eagle Cemetery, Eagle, Nebraska.
Memorials to Juvenile Diabetes or Alzheimers Association.