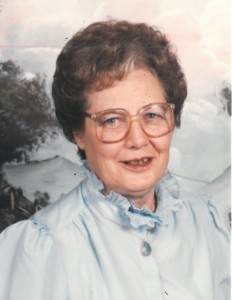 Ruth Adelaide (Hackett) Sorensen passed away peacefully on Sunday, September 17, 2017 at the age of 95.  She was born March 27, 1922 in Bloomfield, NE to Chester Arthur and Nola Belle (Walker) Hackett.
Survivors include her daughters and families:  Kay N. (Lyle) Ashelford and JoAnn (Dann) Miller.  Ruth had 4 grandchildren and 4 great grandchildren.  Ruth was preceded in death by her husband, Norman Trules, and son Lorenz Dee.  She was a devoted mother and wife.
During WWII, she worked at the Glen L. Martin Aircraft plant in Omaha.  She was a member of the team who built the Enola Gay bomber.
Ruth's life work from 1951-1989 was dedicated to the advancement of developmental disabled individuals.  In the early 1950's she and other volunteer parents created the Opportunity Center in Norfolk, Nebraska.  This was a school for mentally challenged children.  Her continued effort led to her position as Executive Director of Region IV services, retiring in 1989.  Under her leadership a workshop and multiple group homes were created to serve adults and children.
She served in various offices on a variety of local, state and national organizations and committees concerned with legislation, public relations, fund raising and the enhancement of the public perception of the developmentally disabled population.
Ruth received recognition and awards throughout her career.  She offered hope, support and friendship to many families.  Her legacy will live on for years.
A memorial service will be held at 10:30 am on Saturday, September 23, 2017 at the First United Methodist Church, on Phillip Ave. in Norfolk Nebraska.