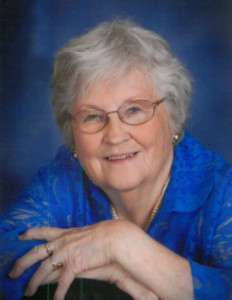 Donna Mae (Barton) Lewis was born on December 14, 1931, in Rosemont, Nebraska, to Frank and Lola (Wright) Barton.  She graduated from Roseland High School in May, 1949 and married Albert Dale Lewis in July that same year.  She and Al had three daughters, LeAnn (Clancy) Hammar, Robin (Cantu, Thiel) Lewis and Julie Lewis.  She is survived by: LeAnn and Dave Hammar; Ann, Patrick and Olivia Clancy; Heather Payden-Williams, Lucina Eid, and Derek Williams; Robin Lewis; Brandy, Nick, Sara, and Jadyn Ringheimer; Gerard Cantu Junior; Julie Lewis; Special niece Lonna Divine; and many nieces and nephews.  Her parents, six sisters and five brothers-in-law predeceased her.  She also outlived Albert Lewis, Misty Cantu (granddaughter) and M. Shonn Clancy (grandson).
She retired on her 65th birthday from HyGain/Telex, now Bosch.  She was a member of First Presbyterian Church and participated in the Sewing Circle, Century Guild and Supper Club.  She was also active at the Lincoln Downtown Senior Center.
Services will be held at 10:30 A.M. on Saturday, November 11, 2017 at Wyuka Funeral Home.  Visitation will begin at 9:00 A.M. on Saturday, prior to the service.
Interment will be at Wyuka Cemetery.
In lieu of flowers please make a contribution to People's City Mission, Center for People in Need, Lincoln Salvation Army or First Presbyterian Church of Lincoln.