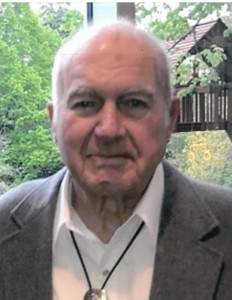 Richard K. Lear age 87 of Lincoln passed away November 8, 2017.  He was born May 1, 1930 in Lincoln to Clarence and Christa (Richardson) Lear.  Richard U.S. Marine Corps in 1949 and received an honorable discharge in 1952.  He worked for Burlington railroad for 40 years as a switchman.
Survivors include his son and daughter-in-law, Richard and Terry Lear of Evergreen, Colorado, son, Rick Lear of Lincoln, daughter and son-in-law, Sheila and Bob Schilke of Lincoln.  Grandchildren, Jerry Nobbman, Jeff Nobbman, Zach Crosby and Alyson Lear.  Great grandchildren, Elijah Nobbman and Ava Crosby.  Sister, Virginia Kiefer, Brothers-in-law, Denny Kiefer and Ron Bonebright.  Sister-in-law Frieda Harr.  He was preceded in death by his wife, Georgia Irene (Harr) Lear, his parents and siblings, Bob, Don, Gene, Vera, Faye and Vivian.
Services will be held at 11:30 A.M. on Monday, November 13, 2017 at Wyuka Funeral Home.
Visitation will be on Sunday, November 12, 2017 at Wyuka Funeral Home from Noon until 7:00 P.M. with family greeting friends from 4:00-5:00 P.M.
Interment will be at Wyuka Cemetery.