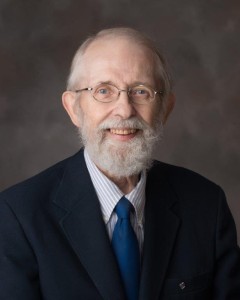 Thomas Edward Rinkevich was born in Grand Rapids Michigan and received his A.B. at Xavier University in Ohio in 1964, an A.M. at Ohio State University in 1966, and a Ph.D. in Classics at Ohio State in 1973. After working as a Mail Carrier for the Postal Service in 1966, he began his career in the Classics Department at University of Nebraska in 1967. He was made Assistant Professor of Classics in 1973, promoted to Associate Professor in 1996, and retired in 2015 with Emeritus of Classics, after 48 years of faithful service to countless students of Greek language and literature, Latin language and literature, and numerous other subjects, including Ancient Egyptian hieroglyphics, and Mythology. Thomas was beloved by several generations of students and colleagues, who enjoyed the depth and breadth of his knowledge and his love for wisdom, and basked in his limitless kindness and his indefatigable sense of humor.
His excellence as a teacher warranted him several nominations for the American Philological Association's Excellence in Teaching award, and led to his receiving the College of Arts and Sciences Award for Distinguished Teaching in 1991. He also received three UNL Parents Association teaching awards, in 1992, 2002, and 2004, and the J. Wellington Wimpy Award in 1996, testifying to his ongoing dedication to pedagogical excellence.
In his many years of service at UNL, Thomas served on countless committees, including the Faculty Senate and the University Marshalls, and bore the responsibility of acting Chair of the department at least four times. He was an important contributor to the sustenance and growth of the Classics Department, and thereafter of the Classics and Religious Studies, always ready to teach extra courses when the students' needs exceeded the Department's means. After his retirement, the Department honored his dedication to service to the students with the Thomas Rinkevich Memorial Award for Exceptional Service.
He initiated an informal social group he named the "Secret Seneca Society," membership of which was open to anyone devoted to Ancient literature and thought, which has functioned as an unofficial alumni group for his many students. Thomas was also a faithful participant in the Latin Mass in the diocese of Lincoln, and readily gave his talents as a Latinist as they were needed. He enjoyed playing the violin and piano, and enthusiastically participated in the Lincoln Shape Note Singing Society.  He had a passion for gardening, travel, and bird watching.
He married Virginia Lee Uzendoski  in 1971 and was a loving father to Xavier Thomas Rinkevich, Mary Genevieve Rinkevich, Katharine Concepción Wilson, Roseanne Magdalene (Sean Thomas) Horton. He delighted in being grandfather to Emma Rose Potter. He is predeceased by his parents, Edward Francis Rinkevich and Magdalene Barbara (Vidro) Rinkevich, James Robert, his brother, and by Xavier Thomas and Mary Genevieve, his children, and is survived by Magdalene Theresa Bumford, his younger sister.
There will be a funeral Mass at 10:00 am, Saturday, November 18, 2017 with a Rosary beginning at 9:30 am at St. Francis of Assisi Catholic Church, 1145 South St in Lincoln, NE.  Burial will be at Wyuka Cemetery, 3600 O St, Lincoln, NE.  In lieu of flowers the family invites contributions to the University of Nebraska Foundation's Thomas E. Rinkevich Memorial Fund, which will be dedicated to student scholarship awards.