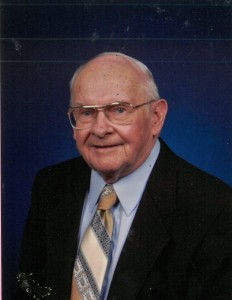 Gordon G. Gude age 94 of Lincoln, passed away November 27, 2017.  He was born January 29, 1923 in Audubon, Iowa to George and Elda (Lange) Gude.  After Gordon graduated from Audubon High School he joined the U.S. Navy Air Corp on December 8, 1941.  He was stationed in the Pacific theatre.  Gordon received an executive MBA from Harvard University in 1970.
Survivors include his wife of 70 years, Beverly Gude, sons and daughter-in-law Craig Gude, Randy and Jelena Gude all of Lincoln.   Grandchildren,  Brian, Curtis, Kamberly and Kelle.  Great grandchildren, Briona, Brock, Carter and Emma.  He was preceded in death by his parents and five sisters.
Memorial services will be held at 11:00 A.M. on Thursday, November 30, 2017 at Wyuka Funeral Home.
Interment with military honors will be at Wyuka Cemetery.
Family requests memorials in lieu of flowers to Our Saviour's Lutheran Church.