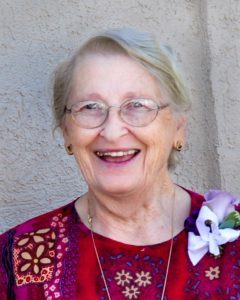 Eva Joye (Palser) Phelps, 88, passed away November 30th, 2017. Eva was born March 26, 1929 to John Ashton and Katie Blanche (Johnson) Palser in Ord, NE and was raised on the family farm in Davis Creek, NE. She moved to Lincoln in 1948 and worked at Elgin Watch Factory. Eva married Coleman C. Phelps, Jr. April 9, 1950. Their marriage was blessed by three children: Paul David, Jane Louise, and Dean Steven. Eva was a devoted member of the church of Christ and the Ladies Bible Class, dedicated children's Bible class teacher, loving and supporting mom to her own children, their friends, and all the neighborhood kids.
Survived by daughter and son-in-law Jane and Ron Franson, son and daughter-in-law Dean and Christi Phelps, grandson and wife Cole and Shayna Franson, granddaughter Carrie Franson, great grandchildren KayLana, Jayvon, KinLeigh, and KataLya; nieces, nephews, numerous cousins, friends, and grand dog Bubba.
She was preceded in death by her parents; husband of 56 years, Coleman; son Paul David, and 10 siblings: Stella Kerr, Harold Ellsworth Palser, Robert Carroll Palser, George Edward Palser, Florence Wright, Mary Esther Rowe, John Weldon Palser, Paul Wayne Palser, Arthur Eldon Palser, and Richard Eugene Palser.
Visitation will be Sunday, December 3, 2017, 12:00 to 6:00p.m. at Wyuka Funeral Home, 3600 O St, Lincoln
Burial Monday, December 4th, 10:00a.m. at Fairview Cemetery, 84th & Adams, Lincoln.
Memorial service Monday, December 4th at 11:00a.m. at Lincoln Church of Christ, 820 N. 56th St., Lincoln, NE 68504
Family requests memorials in lieu of flowers, Nebraska Youth Camp, 65 Sweetwater, Kearney, NE 68847.