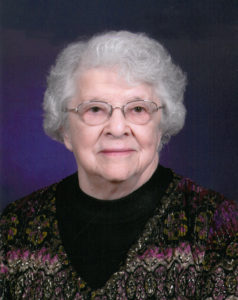 Loretta J. Kreiter age 97 of Lincoln, passed away December 3, 2017.  She was born July 25, 1920 in Manfred, North Dakota to Jacob and Florence (Edinger) Wagner.
Survivors, sons and daughter-in-law, Don and Susie Kreiter of Lincoln, Kurby Kreiter of Texas.  Granddaughter, Pennie Marshall, grandson, Stacy Kreiter, great grandsons, Joshua Marshall and Luke Marshall all of Lincoln.  She was preceded in death by her husband, Clarence, her parents and 2 sisters, Luella and Ida.
Services will be held at 11:30 A.M. on Monday, December 11, 2017 at Wyuka Funeral Home.
Interment will be at 10:00 A.M. on Monday, December 11, 2017 at Lincoln Memorial Park.  Family and friends will meet at Gate 2 prior to 10:00 A.M.
Visitation will be at Wyuka Funeral Home on Sunday, December 10, 2017 from Noon until 6:00 P.M. with family greeting friends from 4:00-5:00 P.M.
Family requests memorials in lieu of flowers to College View Academy Worthy Student Fund.