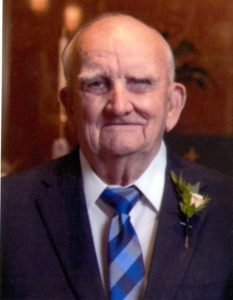 Kenneth "Diz" Roberts age 91 of Bee, Nebraska, passed away December 9, 2017. He was born August 16, 1926 in Calvert, KS to George and Emma (Akin) Roberts.
He is survived by his wife Donna (Roe) Roberts, son, Gary (Sandy) Roberts, Daughters; Connie (Jim) Cook and Kay Roberts, 16 grandchildren and 24 great-grandchildren.
Kenneth is preceded in death by his parents, brothers; Fred, Joe, Clark, Robert, Ora, sisters; Fern Eshelman, Wilva Lamb-Hutchens, and Velda Bieghler, son, Jim Roberts, daughter in-law Linda Roberts and son in-law Mike BussVisitation Monday, December 11, 2017 from 3:00 to 7:00p.m., family present from 5:00 to 7:00p.m. at Wyuka Funeral Home, 3600 "O" Street
Funeral Service will be held Tuesday, December 12, 2017 at 10:00a.m. at Wyuka Funeral Home.
Memorials to Bee Ballroom Committee, Bee Nebraska, 68314.