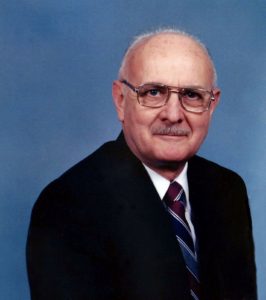 Melvin Leroy Brown, 87, passed away on December 8,2017. Melvin was born to Bernard and Ethlyn (Hartman) Brown on February 16, 1930 in Hebron, NE.   Mel graduated from Teachers College High, Lincoln in 1947.  On October 1, 1948 he married Isabelle Lafferty, his high school sweetheart.
Mel served honorably in the US Army during the Korean War and achieved the rank of SFC. He earned a Bronze Star Medal for his service.  Mel was a barber in Lincoln for over 20 years.  After that he was the Business Manager at the Peoples City Mission.  Mel and Isabelle were long time members of Central Alliance Church; where he served as Treasurer, Elder and Deacon.  Mel also was the Business Manager for Central Day Care Center.   Mel and Isabelle cooked many meals in the church kitchens.  They also hosted Christmas dinners at their home for men living at the city mission.  Mel loved the Lord and served by helping others.  Mel and Isabelle especially loved feeding family and friends.
Mel was a member of Faith Bible Church in recent years. He enjoyed reading, cooking, camping and spending time with his family and friends.  Mel and Isabelle took their children and later their grandchildren on many camping vacations to various parts of the country.   He was a loving caregiver to Isabelle the last few years of her life until her passing in April 2015.  Mel is survived by son Gary (Valerie) Brown of Lakewood, Colorado; daughter Cathie (David) Miller of Lincoln; grandchildren Keith and Jesse Brown, Taylor and Spencer Miller; sisters, Marie von Forell and June Hainlen;  nieces and nephews.  Mel was preceded in death by his beloved wife Isabelle, parents and brother Gene.
Services: Friday, December 15, 2017;     2:00 Graveside at Wyuka Cemetary with Military Honors for any that wish to attend followed by a 3:00 Memorial Service at Wyuka Funeral Home.  Visitation:  Noon – 6:00 pm on December 14 with the family present from 3:00 – 5:00, also at Wyuka Funeral Home.
The family would like to thank Tabitha Hospice and the Journey House staff for the loving care they gave both Mel and Isabelle.
Memorials to People's City Mission, Tabitha Foundation or Madonna Foundation