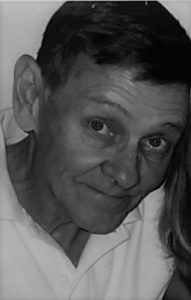 Larry L. Schroeder, 79, of Fairbury, Nebraska died Saturday, December 23, 2017, at the Jefferson Community Health & Life Hospital in Fairbury, Nebraska with his family by his side.   Services will be at  1 : 30  Friday at Wyuka Funeral Home in Lincoln, Nebraska.   
Larry was born August 14, 1938, in Beatrice, Nebraska, the son of Harlan and Alice Schroeder. He grew up in Lincoln, Nebraska and graduated from Lincoln High. While in school and after graduating, he worked as a clerk at Hinky Dinky grocery store and was also part of The Nebraska National Guard. It was during this time that he met the love of his life, Kathryn (Kate) Schaffer and they were united in marriage on August 30, 1959. They recently celebrated their 58th wedding anniversary. They started their family in Lincoln and then moved to Grand Island, Nebraska in 1965 when Larry became the manager of the Hinky Dinky grocery store there. He received numerous awards for his outstanding work within the grocery store chain. He was made a District Supervisor of Hinky Dinky stores, but this required him to travel and be away from his family, which he didn't enjoy. This is when he became manager of the new Hinky Dinky store that was being built in Grand Island. They remained in Grand Island to raise their family. During his time in Grand Island, Larry was a member of the Jaycees where he received an Outstanding Bosses Award, was President of The Cosmopolitan Club, Toastmasters, The Chamber of Commerce, and was also the President of the Gates School PTA and was made a lifetime member of the Nebraska State PTA. In November of 1982, Larry pursued his dream of owning his own grocery store, Schroeder's Jack & Jill. It is this dream that brought Larry and Kate to Fairbury, Nebraska.
 Larry had a gift with people and those that had the opportunity to work with him found they respected and loved him for his kind nature and leadership. He was a great businessman and knew the secrets of running a successful grocery business. Larry also had the gift of craftsmanship. He took on many projects which involved remodeling, painting, wallpapering, and constructing. He was very handy which gave him the nickname of Mr. Fix-It by his granddaughters. He had a great eye for detail. When not working or tinkering, you could find him out on the golf course. He enjoyed golfing for many years until his deteriorating health made that difficult. Most importantly, Larry was a loving family man. He loved his wife, children and grandchildren wholeheartedly and would give them all the world if he could. He was always willing to help in any way needed. Larry earned the name of Bompo from his grandchildren, only because his first grandchild couldn't say grandpa and it came out Bompo. It's a name that stuck through the next four granddaughters and he was more than proud to be called Bompo.   
Those left to cherish his memory include his wife of 58 years, Kate Schroeder; his son Craig of Fairbury and daughter and son-in-law Lori and Gus Patsios of St. Paul, Nebraska; two brothers and sister-in-laws, Jim and Vicki Schroeder of Omaha and John and Karen Schroeder of Lincoln along with a sister and brother-in-law Judy and Randy Johnson of Lincoln; and his grandchildren, Bailey (Patsios) Aupperlee and husband Jeremy of Grand Island, Sydney Schroeder of Lincoln, Morgan Schroeder of Fairbury, Demi Patsios of Lincoln, and Taylor Schroeder of Lincoln; along with numerous nieces and nephews.
Larry was welcomed into heaven by his parents, and two sisters, Janice and Shirley. Online condolences may be directed to the family at www.wyuka.com